James Kennedy Attacks Katie Maloney, Calls Her 'Fatty' In Cast Feud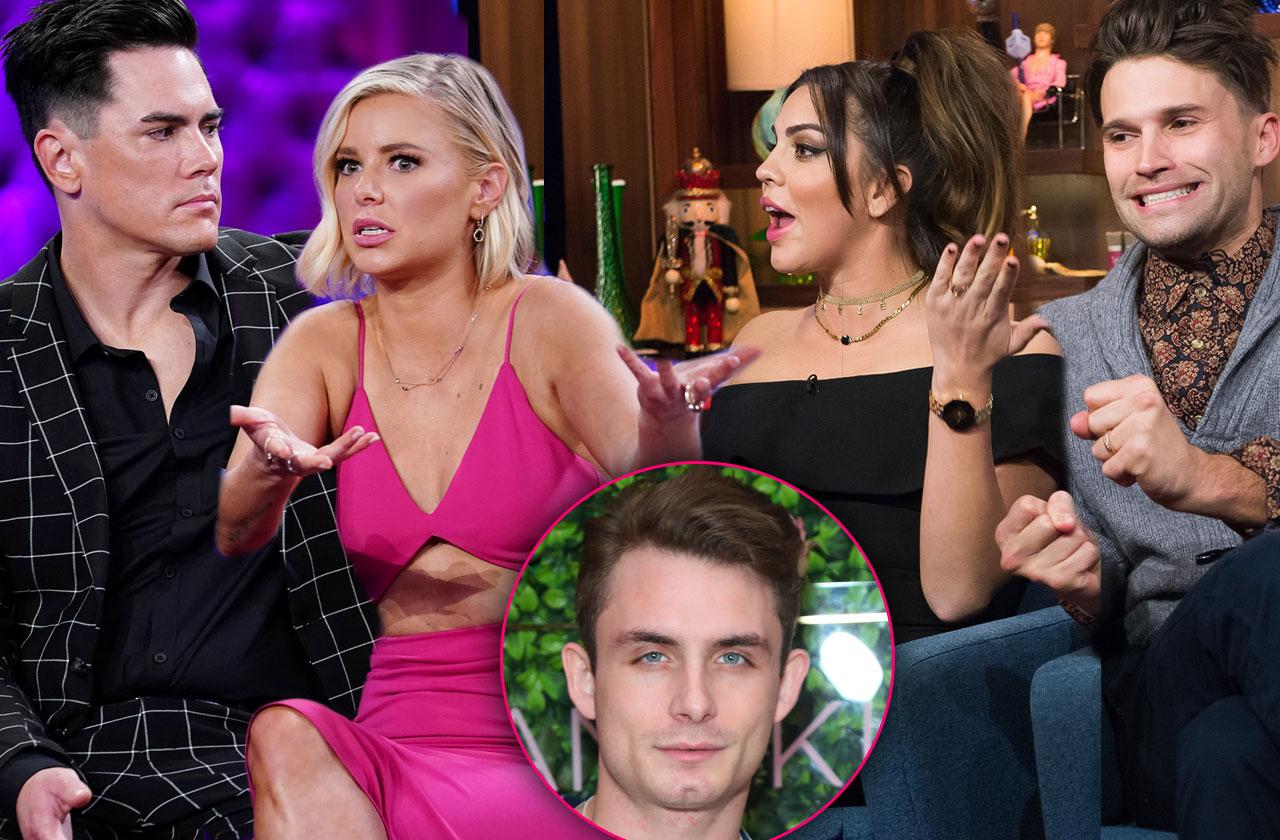 Article continues below advertisement
"Stupid," Stassi told him, and said she didn't want James to join the trip either: "None of us want to be around him. It's done."
At SUR's Girls Night In party, the fight broke out.
"James can't even be in the same room as Kristen Doute. LaLa Kent can't stand him, he embarrassed Brittany Cartwright at SUR, and Tom Sandoval is trying to bring James along as his plus one. Get the f**k out of here," Tom Schwartz's wife warned him.
"I'm stuck in between my wife Katie and my work wife, Tom," a miserable Tom Schwartz complained.
Tom Schwartz asked BFF Tom Sandoval to go outside with him to break the news that James couldn't go on the trip.
"I know we've been pretty cool with James lately and I appreciate you've been a champion for him, but on this trip, it's not going to work," Tom Schwartz told his friend.
"I like the guy," Tom Sandoval said, but Tom Schwartz stuck by his wife.
Article continues below advertisement
"It's going to be a nightmare for me. She had a very strong reaction. I thought it fizzled out."
"I love my wife and I am taking her side in this one, unequivocally. James can't come," Tom Schwartz said.
Soon, Ariana Madix got mad Tom Schwartz was making her guy do the dirty work.
"I am sick of my boyfriend being the mouthpiece, Tom's always the one that looks like an a**hole but I know what you guys say behind closed doors," she told Tom Schwartz.
"No, we do it together," Tom Schwartz joked.
But Tom Sandoval was furious with Katie for making him un-invite James.
"Katie has done a lot of things over the years," he pointed out.
"She bullied Kristen, went up to LaLa and called her a whore. Made Schwartz's life a living hell," he said as an on-screen flash back showed her saying "talk about how your d**k doesn't work" to her own husband.
"Now she got James fired over this one comment," Tom Sandoval continued.
Article continues below advertisement
"I didn't get him fired, he got himself fired," Katie yelled.
"He didn't get himself fired, he would still have his job if you didn't get him fired," Tom Sandoval insisted, and Katie retorted: "You sound dumb."
"You're drunk," he replied, and she shot back: "You're a f**king a**hole."
Tom Sandoval mocked her, saying: "I can say whatever I want to somebody. Call them a whore, say their d**k doesn't work but if somebody calls me fat, I'm getting their a** f**king fired."
A tearful Katie then said she was hurt by James calling her fat.
"It was one second. F**king Jesus," Tom Sandoval said. "I feel like everybody says f**ked up things to each other here," but "James is the only one who gets fired for it."
"You're a bully. You're a bully, Katie," Tom Sandoval said and stormed off.
Tom Schwartz took his wife's side.
"Sandoval is way out of line, he's attacking my wife's character. It's absurd and I've gotta have my wife's back, you know?" he said.
Article continues below advertisement
Then Tom Sandoval tried to go to boss Lisa Vanderpump for advice, lobbying on James' behalf.
"It's bulls**t, he should have never gotten fired. Katie's been an a**hole for f**king years," Tom Sandoval said.
"This is your partner's wife," Lisa warned him.
"I feel so torn because I know James desperately needs a friend and Sandoval is the only one on his side but Sandoval's relationship with Schwartz is important to this business," Vanderpump said, telling Tom Sandoval that he had to figure it out himself.
Tom Sandoval ended up choosing Tom Schwartz over James, telling him at TOMTOM that he was un-invited on the trip.
"This is f**king bulls**t," James yelled at the guys when they told him. "You guys are f**king a**holes. Seriously. You're a p***y bro."
"It's his wife," Tom Sandoval tried to reason, but James ripped into him. "F**k your wife bro. I'm ashamed of you, Schwartz," he said as he stormed out.
Article continues below advertisement
"You should be ashamed of yourself, James," Tom Schwartz replied.
In his confessional Kennedy ripped into them both. "Katie is a fat f**king b***h. She can't be happy in her goddamn life unless she's hating on somebody. And normally it's her stupid weasel husband Schwartz. They can both go f**k themselves. F**k you fatty and f**k you weasel," he said.
Stay with RadarOnline.com for weekly recaps of Vanderpump Rules.
We pay for juicy info! Do you have a story for RadarOnline.com? Email us at tips@radaronline.com, or call us at (866) ON-RADAR (667-2327) any time, day or night.