Crazy Kristen Is Back! Stassi Schroeder Slams Drunk Doute On Girls' Trip Gone Wild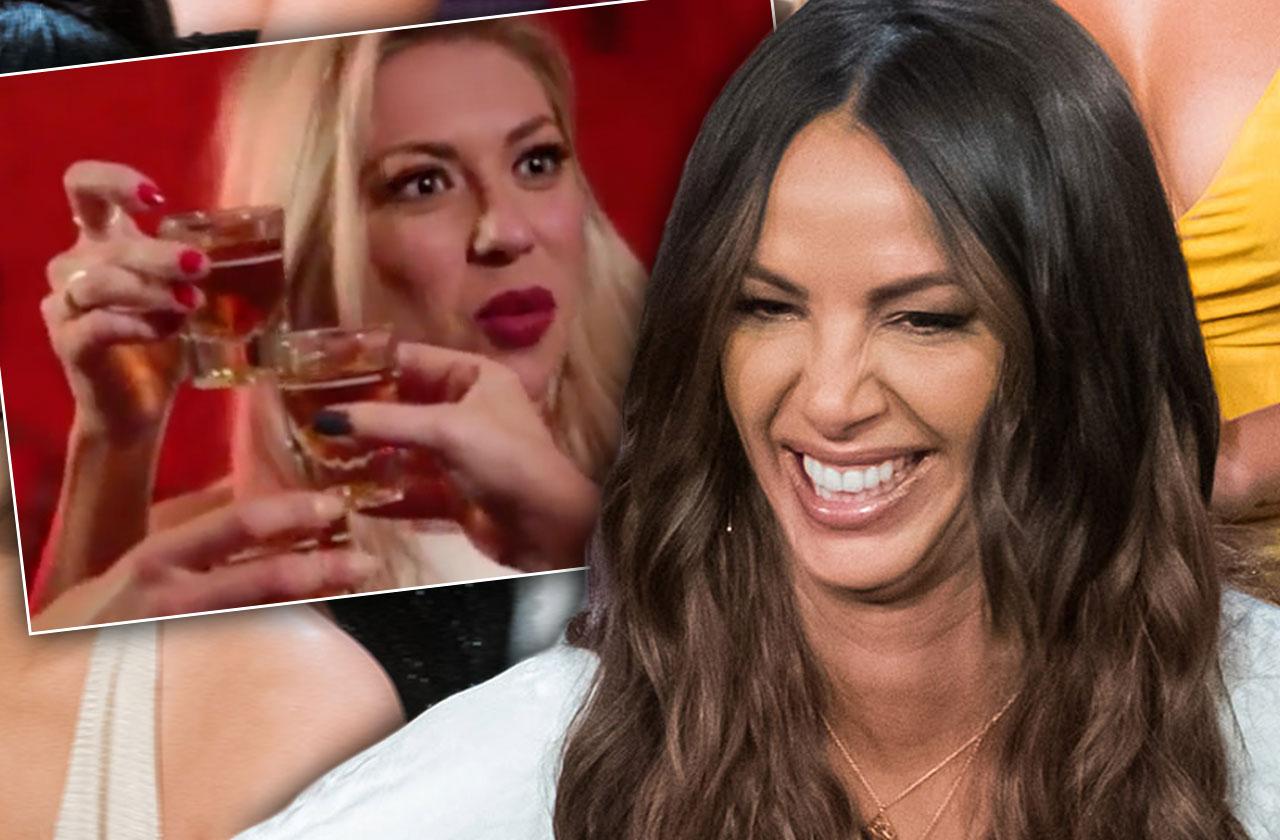 Article continues below advertisement
"A couple months ago Randall and I got sloshed and apparently I was running around naked and I broke a hurricane proof window," Kent admitted. "We made the pact that we should probably stop drinking. But that doesn't mean I can't get my b****es drunk."
And that set the scene for a wild trip.
When Brittany Cartwright tried telling her fiancé about the trip, she mispronounced the name of the California town.
"All you girls arriving on a private jet in a place called 'So Vain?' Perfect," Jax Taylor said.
But Doute left her purse at home and caused the ladies to be 40 minutes late for takeoff on the private jet.
"Randall, he's the one paying for the plane. That's what he does for the baby," Kent said in her confessional about the 45-minute flight up the coast. "If Rand were to be gone tomorrow would I be flying private? Probably. Just with a different guy. Kidding," she said. "But I would."
Article continues below advertisement
Stassi Schroeder vowed to keep Doute at bay, saying she wasn't going to let her "ruin" the trip. Of course, Doute was furious.
"Stassi literally goes out of her way to be an a**hole to me. You know what? I am who I am," Doute said.
"You were already like 40 minutes late and it is stressing me out," a furious Schroeder told Doute.
"I spent more time waiting on the sidewalk for Kristen to show up than I did on the PJ," she said.
While Kent celebrated "popping their PJ cherries," she served the ladies Dom Perignon champagne and shouted: "We're on the PJ b****es, and none of us paid for it!"
Kent spilled her secret hope for the trip to the Santa Barbara wine tasting village.
"I'm obsessed with the movie Sideways. I'm praying one of these b****es gets so drunk that they drink out of the spit bucket," she said in her confessional.
Article continues below advertisement
The girls checked into the cute hotel, and Katie Maloney volunteered to share a room with Doute while Scheana Marie was left alone.
"I'm being singled out. I live by myself, I don't want to room by myself on vacation," she whined.
"You would think that because Kristen is such a bad traveler that Carter would be willing to get his a** out of bed and help her get out the door," Maloney said after Doute explained why she was so late the morning of the trip. "But I guess he doesn't do that. Now I have a stressed-out terrorist traveler staying in my room with me."
Then they went wine tasting, and Doute's disaster began. First the girls were enjoying the flowers in the town and Doute ate a purple flower.
"Even little kids know not to eat flowers. There is probably dog pee on it," Madix said but Doute insisted it was "just lavender."
It was not lavender.
While the red wine was being poured and tasted a tipsy Doute said: "I think merlot is the basic b***h of wine."
Article continues below advertisement
"We are wine tasting. It is supposed to be an elegant thing. And this is the first winery of the day," Maloney said about Doute's comment. "Get a hold of yourself."
Doute continued to chug wine, and Schroeder revealed her fear of what was to come.
"There are tell-tale signs that crazy Kristen is about to come out," she said in her confessional, noting that "drinking a lot" was one.
And crazy Kristen? "She's here," Schroeder said, and the sneak peek for the next episode showed Doute falling down drunk.
Back in West Hollywood, James Kennedy had an emotional episode .
After attending therapy, he confronted his mother, Jacqueline, and told her he was no longer going to allow her to talk about his dad to him. He also said he wanted to know how she was spending the $200 he sent her "every three days."
"What I want from my mom is peace and no down talking and actually listening to me like a f**king person," he said, and told her he was setting boundaries.
Article continues below advertisement
She exploded on him, telling him he went to fancy schools and had all designer clothes.
"You took your first steps at fucking Tiffany's. Say 'Thank you mom, you're not a total b***h,'" Jacqueline yelled at him.
"I see our relationship going downhill and I don't want that," Kennedy confessed.
In another scene on VPR, his mother asked Vanderpump to hire Harry, James' younger brother as a bus boy at SUR.
James brought Harry in for an interview with Peter Madrigal and Guillermo Zapata and he ended up in tears.
While Zapata recalled hiring James as a bus boy, he told his brother Harry that what he really needed was a DJ, since James was recently fired.
"When he's poking small little jabs at me it feels like a knife going into my heart," James said in his confessional, and broke down in tears during the interview.
Article continues below advertisement
"Dude, I'm crying every day," he told his brother and Madrigal after Zapata left the table. "I'm just not happy now. Someone that was once proud of me is no longer proud of me."
His brother tried to cheer him up, telling him: "You work hard, you made a couple mistakes bro. You need a little bit of tough love."
Taylor and Cartwright also attended therapy after looking at a venue for an engagement party that was going to cost over $14,000.
"I'm kind of nervous," Cartwright said about marrying Taylor after he cheated on her.
"We're actually doing really good right now," Taylor told the therapist. "I've made a change. Trying to settle down. After my dad died, I know how to live."
But he refused to talk about his cheating scandal.
"I don't really want to," he stubbornly said.
"He's a lot better but if we bring up the past, he doesn't want to talk about it. Sometimes that can be hard," Cartwright confessed.
Article continues below advertisement
"I don't bring up Jax's cheating last year hardly at all," she admitted. "I want Jax to be able to talk to me."
She told the therapist that he "gets tense if it gets brought up," and he quickly denied it.
"It's a big thing and we're getting married," Cartwright said. "I just want to make sure if bad things go on with us that that won't happen again. That he won't cheat again."
"It's part of what needs to heal," the therapist said and Taylor dismissed her.
"Why are you rolling your eyes?" she asked a visibly upset Taylor.
"I'm not mad. I just don't understand. I don't understand how going back to that will make anything better," he said.
Stay with RadarOnline.com for weekly recaps of Vanderpump Rules.
We pay for juicy info! Do you have a story for RadarOnline.com? Email us at tips@radaronline.com, or call us at (866) ON-RADAR (667-2327) any time, day or night.
Get the exclusive celebrity scoop on all the stars you love before any of your friends by subscribing to our new podcast Straight Shuter below!