Betrayed! Scheana Breaks Down In Tears As Lala Calls Her 'Annoying'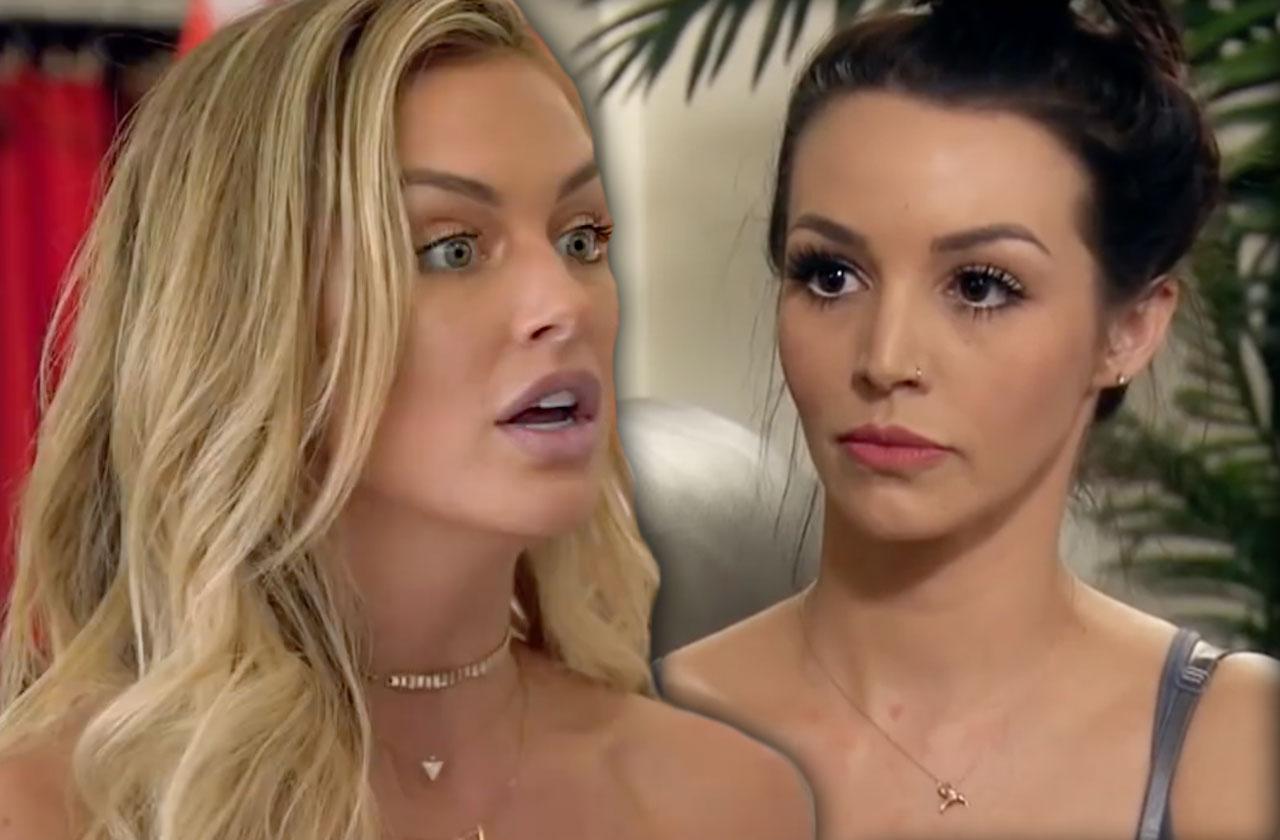 Scheana Marie's attempt to brag about sex with her new non-boyfriend seriously backfired on the latest episode of Vanderpump Rules.
LaLa Kent watched her pal flirt with a barista and was brutally honest about her intentions.
"Your vagina is calling for every d*ck ever," Kent said to Marie, who gleefully revealed that she and Adam Spott finally slept together.
"No, we're not a thing. We just had sex," she told Kent.
Article continues below advertisement
"The situation Adam and I are in right now is ideal," Marie said in her confessional. "I'm a single woman. Neither of us want to be in a relationship. I would rather just hang and bang. You hang it out, bang it out, best of both worlds."
Kent told Marie that she wanted to take the girls on a trip, since they were all so supportive after her dad passed away.
"You don't have to do anything. We're your friends we're going to be there no matter what," Marie said. But Kent had another, more luxurious idea.
"So, I want to take the girls on a trip in Solvang, a winery on the beach, just girls trip. Peej, pj, private jet. It's like how Eskimos have 50 words for the word snow, Lala has 50 words for the word private jet," she explained, telling Marie she would be inviting Ariana Madix and Stassi Schroeder.
"I think a trip would be fun because we've all been getting along," Marie said, but Kent had a different opinion, telling her that her incessant bragging about whatever man she was dating annoyed her friends.
Article continues below advertisement
"As an observer I think you can talk to me about everything. You can go on and on about Adam, you can go on and on about whatever you want. I feel like whenever you do it with either Stassi or Katie because you guys are not in that place. Maybe they feel a bit overwhelmed," she told her.
"I can understand why these girls think Scheana is annoying," Kent said in her confessional. "She can be a little annoying."
The comments crushed Marie, who started crying and said: "I've been trying, maybe I shouldn't," and Kent agreed. "As far as confiding in them, it is off-putting to them."
"I really want to rebuild my friendship with Kirsten, Katie and Stassi," Marie cried. "I have to admit it, I miss it."
But she realized what she was up against.
"I'm never going to win with them. I never have," and Kent agreed again. "You never have, and you probably never will."
Article continues below advertisement
In other news, Schroeder made the raunchiest comment of the night after Kent told her about the private plane trip to go wine tasting.
"So that we can all go down on each other ," she said to Kent and Madix, reference their shocking hookup from the last episode of VPR.
James Kennedy was still upset that the girls had stolen his See You Next Tuesday Party.
"I hate all of them for it, how can I hide it?" he asked Tom Schwartz.
"I know everyone got fu***ng wasted," he said about the Girls Night In party Katie Maloney and the other girls hosted at SUR. "But I can't drink on the job, can I?"
"James, I think you're a phenomenal DJ but you're not a phenomenal drinker," Schwartz told him.
The big event on the show was the opening of Tom Tom, which was plagued with problems before the party.
Jax Taylor's 39th birthday was the same day as the Tom Tom opening and prior to the event he made the heartbreaking confession that after his father's tragic death he and his mother weren't speaking and she didn't call him.
Article continues below advertisement
"For some reason I thought maybe the phone would ring. So, I listened to his voicemails. It was tough," he cried.
"My mother and I haven't spoken since my father passed. I wasn't 100% ok the way his cancer was handled. I feel like she should reach out to me, I'm her son," Taylor tearfully revealed.
At the Tom Tom opening, Lisa Vanderpump spoke kindly to him and was truly shocked about his situation with his mom.
"Jax can be a complete a**hole, but on your birthday you need to hear from your mummy. And I feel bad for him," she said.
Maloney was mad that James Kennedy was going to DJ at Tom Tom, saying: "I don't really care how James is feeling because he hasn't given a thought to how I feel or how anybody else that he speaks to. So why should I give a f**k what he said?"
And Vanderpump finally made Schwartz and Tom Sandoval partners in the bar.
Article continues below advertisement
"I feel like I'm being inducted into a Mafia organization and if I cross her I'm going to get whacked," Schwartz said.
"Just don't let me down," Vanderpump warned the guys.
The party went off without a hitch (even though Vanderpump banned Doute from the party, causing her to sit home and cry while eating in bed with her dogs).
"Tom Tom is chic AF," Kent said while working the door. "This is the most lit restaurant I've seen in a minute," she said.
And even Maloney was happy, talking about Kennedy's DJ booth not being near her.
"I don't want to work with James at SUR. But I don't mind drinking at Tom Tom while James is locked in a closet," she said.
Stay with RadarOnline.com for weekly recaps of Vanderpump Rules.
We pay for juicy info! Do you have a story for RadarOnline.com? Email us at tips@radaronline.com, or call us at (866) ON-RADAR (667-2327) any time, day or night.
For the latest Teen Mom news subscribe to our podcast 'Teen Mom Time' below!