Sex Bombshell! Ariana & Lala's Drunken Lesbian Hookup Exposed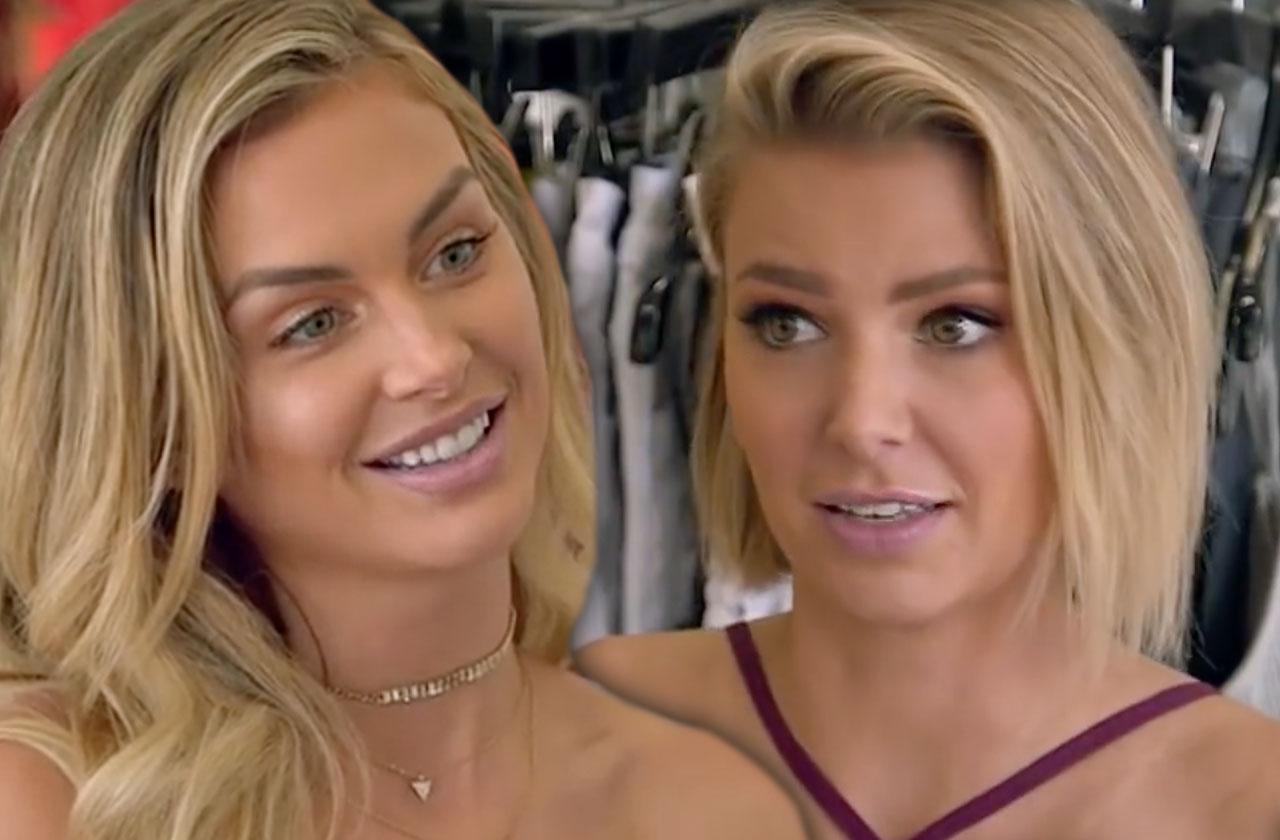 Article continues below advertisement
"Ariana and Lala had been out all day drinking and they're wasted, they're in my car. And Lala goes 'Sorry, Sando, I'm just in love with your girl right now. Ariana, will you climb in the back seat? I just want to eat your p***y," he said on the Jan. 28, 2019 episode.
"Ariana climbs in the back and Lala just starts going to f**king town dude."
The guys are all stunned, except Kennedy who blurted out that Kent was a "freak in the bedroom."
"There's no stopping horny Lala," he admitted.
He also said Taylor and Kent "smashed," but Brittany Cartwright's fiancé quickly denied that. "No, I didn't. Don't start that sh*t. Tread lightly," Taylor warned Kennedy.
Taylor immediately went home to find Kent in his West Hollywood apartment. Immediately, he asked her if the girl-on-girl sex rumors were true.
"No, I did not have sex with Ariana in the back. What the f**k is he talking about?" she told him, but admitted later in her confessional that it was true.
Article continues below advertisement
"Did this happen with Ariana and myself? Yes ! Am I about to blow this up with Jax and Brittany? Hell no!"
A drunk Sandoval then stumbled into SUR where Madix was bartending, and she was furious with him that he told his friends about her hookup with Kent.
"I literally just got a phone call from Lala telling me the fu**ing story you told on your birthday to try and sound cool in front of a bunch of guys. It is my business," she yelled.
"I'm not embarrassed or ashamed at what happened between Lala and I," Madix said in her confessional. "But I do feel like Tom betrayed my trust by telling the story to his guy friends. My sexuality is not something that is meant to sound cool to a bunch of dudes."
She continued berating him.
"You told Jax who will tell anyone with earlobes anything that comes into his Goddamn tiny little mind," she said.
Article continues below advertisement
Sandoval was stunned by his girlfriend's reaction.
"You've been in a relationship with a girl before," he said.
"Yes, Tom you told something that is not yours to tell without running it by the people who are involved," she continued.
"I was slightly annoyed that night," he said and she kicked him out of SUR. "Leave my bar right now. You're annoying. Your hat's annoying, your f**king face is annoying, goodbye."
Later on in the episode, they spoke again about the situation.
"So obviously we have some things to talk about. When you talk about anyone's sexuality without their consent it's like really not ok," Madix told her boyfriend.
"There was a part of me that was annoyed by that situation because you guys were wasted," Sandoval said but Madix shut him down.
"This is about my sexuality as a person. I don't talk about that stuff with the entire world. But now it's like now everybody knows. I've been with women in the past and with men. I don't like labels. That person can be male, female or anything in between," she said in her confessional.
Article continues below advertisement
But she didn't hold a grudge for long.
"Part of me is really grossed out mad at him and part of me is like you poor little thing. You thought you were being cute," she said.
Madix explained why she never revealed her past dating experiences.
"I'm not ashamed of myself. It's not so much that it happened but people are talking about it. People do say a lot of sh*tty things about bisexual people. I mean maybe that's why I don't talk about it so much," she explained.
At Sandoval's joint birthday party with Taylor, a 1970s themed skating party, Kent told her how she lied to Taylor and Cartwright about their hookup and Madix thanked her for having her back.
"I feel awkward that people are talking about what I do with my mouth and my vagina," Kent confessed.
Kent also apologized to Kennedy's girlfriend, Raquel Leviss, at the party, saying: "I'm sorry I called you a tw*t."
Article continues below advertisement
As if that wasn't enough drama for the night, Kent also had a blowout with Billie Lee, which ended in a screaming match at Scheana Marie's housewarming party.
Lee approached Kent to end their feud after being excluded from Girls Night In.
"It is so trivial. The fact that you put it out there that people are transphobic," Kent said, and Lee again denied calling anyone "transphobic."
"You're coming from a cis point of view. I'm coming from a trans point of view," Lee tried to explain, but Kent — who previously admitted she didn't know what "Cis" meant — exploded.
"And that is it for me. You're dismissed," she said.
"You're not f**king better than me LaLa," Lee yelled. "You're not f**king better than everyone just because you have a f**king rich boyfriend," she screamed.
Kent ripped into her.
"You're pathetic," she said to Lee, who told her: "Stop calling me pathetic, b*tch."
"The fact that you just took that to my man, you're a f**king low down ho," Kent screamed. "You were not excluded on purpose. You put it on social media and now it's all over. You're being a f**king psychopath."
Article continues below advertisement
"I completely understand that I will never understand the struggles that Billie has gone through but you mention my man she's dead six feet," Kent said in her confessional.
"You're a catty b*tch. That's why people don't like you. Cause you showed you're a**hole," Kent yelled.
"You are constantly talking sh*t about people," Lee said and Kent retorted: "You're low down, you're dirty."
Stay with Radar for weekly recaps of Vanderpump Rules.
We pay for juicy info! Do you have a story for RadarOnline.com? Email us at tips@radaronline.com, or call us at (866) ON-RADAR (667-2327) any time, day or night.
Get the exclusive celebrity scoop on all the stars you love before any of your friends by subscribing to our new podcast Straight Shuter below!