'F**k This!' Stassi Schroeder Has Drunken Meltdown Over New Man At 30th Birthday Bash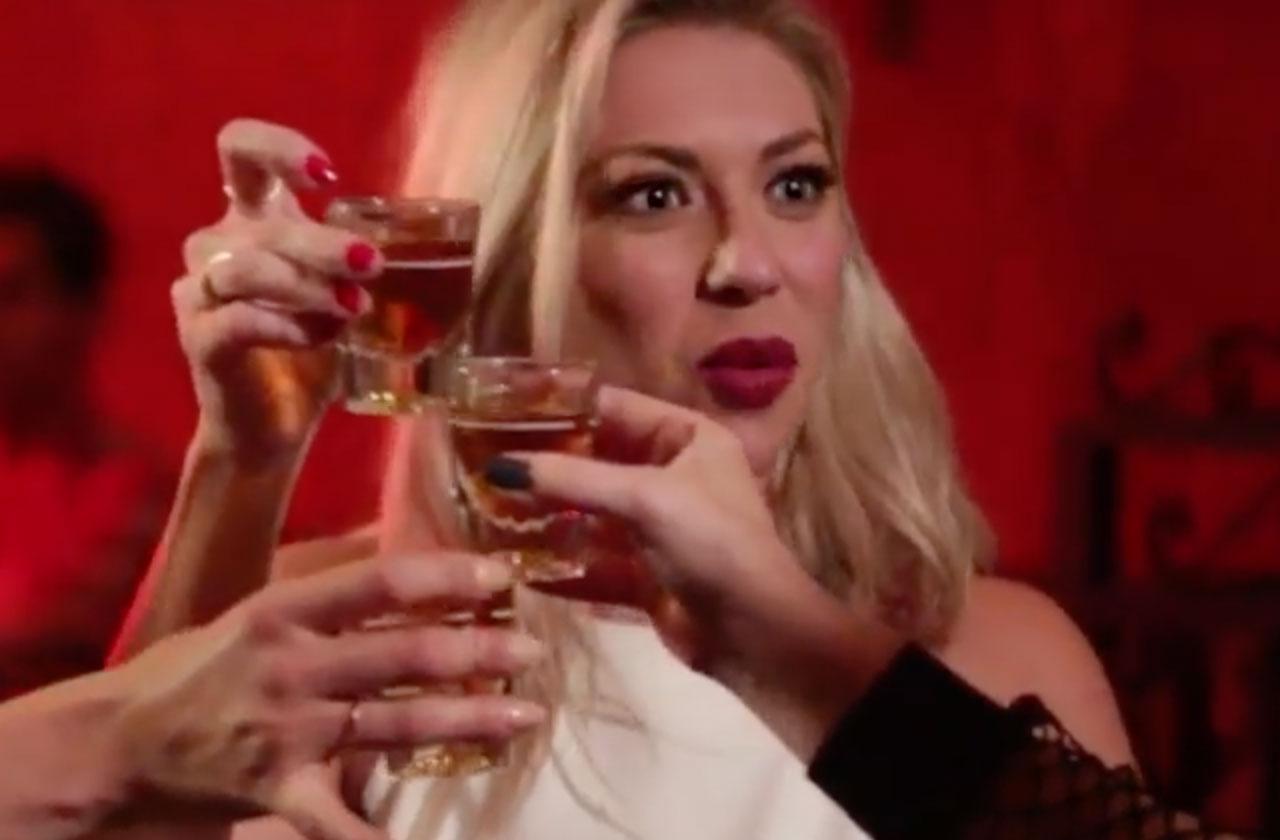 Another birthday, another drunken mess for Stassi Schroeder! On the latest episode of Vanderpump Rules, the blonde bombshell celebrated 30 with a joint party with Ariana Madix and all of their friends. But after a few hard drinks, she ended up having a meltdown and smashing her phone!
Schroeder began the episode gushing about her new boyfriend, Beau Clark, revealing that she was much happier with him than with her ex after their romantic trip to Italy.
Article continues below advertisement
"Beau is so different than Patrick. He doesn't use a bunch of words I don't know to be condescending," she said in her confessional. "I'm sorry Patrick, I hope I'm not doing this myopically but I'm just feeling so galvanized by this new relationship you f**king d*ck ."
But behind the scenes, problems were brewing. Twice on VPR she told her boyfriend she loved him — but he didn't say it back!
"Ti amo," Clark said in Italian the first time she told him and the second he just told her "I know," when she professed her love.
"I'm excited about turning 30, I feel like I'm a woman," she excitedly told him before her joint party with Madix.
"Honestly, I just feel really proud. I have a great relationship now, and I have all of these great friends," Schroeder said in her confessional. "Like, 23-year-old Stassi def wasn't grateful for anything. Now I just feel thankful."
At her winter-themed bash, the beauty was all over her man, but he didn't seem to be returning her affection.
Article continues below advertisement
"I'm so much more relaxed. He really is the absolute best and I really frigging love him," she also said in her confessional and then had a moment of self-awareness. "Oh my God, do I sound like Scheana talking about Rob? Like this is my worst nightmare."
The party was a blast, with Schroeder and Madix and the rest of the VPR stars boozing it up until 1:49 am when all hell broke loose.
Schroeder went to take off her makeup and was texting Clark from a bathroom at the rented house where she had her birthday party.
"Beau, I'm tired," she messaged him at 1:52 am.
"Where r u?" she wrote at 1:54 am.
"Come to bed," she wrote at 1:56 am.
At 1:57 am she tried calling him but got his voicemail. He was still up partying with the guys, not checking his phone.
"I just want to have Beau with me in bed at the end of the night, because I know everything's okay," she explained in her confessional.
"F**k this," she said at 2:00 am.
Article continues below advertisement
"I just want him to be with me and love me and just like show that he loves me. Being left is like a big deal. It kills me. It like really, really kills me," Schroeder explained, speaking of her boyfriend who was partying in the next room.
Then she left him a drunken voicemail.
"I've been texting you and know that I've read them. You have legitimately been ignoring me," she wrote.
And then the old Schroeder was back!
At 2:06 am she screamed and smashed her phone down, giving a dramatic ending to her 30th birthday.
The other drama on Vanderpump Rules was with James Kennedy, who was uninvited from the party by Schroeder.
"Ariana's been a close friend," Kennedy said when Madix sided with Schroeder and booted him from the guest list. "It's really sucky that now that she's joining forces with Stassi she can't include me in that. I thought she was more than a leader. I guess she's more of a follower."
Article continues below advertisement
Lisa Vanderpump tried to convince Kennedy's mom that he needed help, telling her: "He has the unbelievable disrespect for women. He's drinking way too much."
She pleaded with his mother to understand his situation.
"I don't have to be here, I can wash my hands of him. He should be in therapy and learning to deal with his anger," she said.
Then Vanderpump went to Kennedy's apartment, where she realized he was taking care of his whole family.
"At 26 years old that is quite a big responsibility," she said but warned him to stop being "an arrogant obnoxious rude little prick."
"I'm not going to give up on you," she told him, and Kennedy was grateful. "I know thank you so, so much for caring it means the world to me."
At the birthday party Schroeder tried to warn Kennedy's girlfriend about him.
"You deserve so much more than somebody who is a legitimate piece of sh*t," she told Raquel Leviss, who was still standing by her man.
Stay with RadarOnline.com for weekly updates on Vanderpump Rules.
We pay for juicy info! Do you have a story for RadarOnline.com? Email us at tips@radaronline.com, or call us at (866) ON-RADAR (667-2327) any time, day or night.
Get the exclusive celebrity scoop on all the stars you love before any of your friends by subscribing to our new podcast Straight Shuter below!