'Oh My F***ing God!' Stassi Gets Into Nasty Fight With Mom After Drunken Meltdown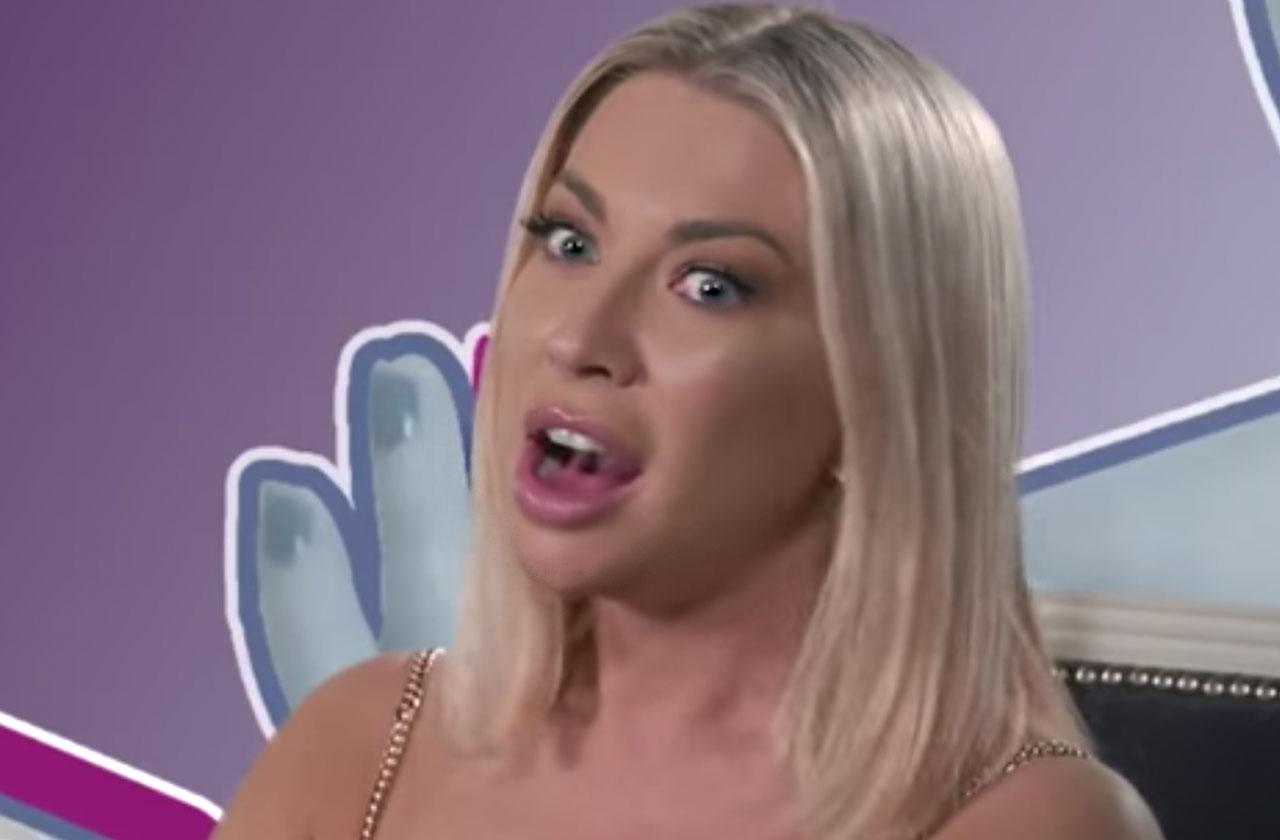 Everybody fights!
On the latest episode of Vanderpump Rules, the stars got into a heated fight — and even Stassi Schroeder's mom got involved! The drama began the day after Schroeder's birthday bash where she had a drunken meltdown because her boyfriend, Beau Clark, wouldn't come to bed with her.
"I'm really sorry," a sobbing Schroeder told him. "It was like you d*ck punched my heart," Clark admitted.
Article continues below advertisement
"I don't want to do that with you. I don't want to be mean," she continued.
"There's nothing to accomplish in this argument. What makes you turn?" he asked her.
"I don't know. I'm so fu***ng concerned that you're going to leave me because of the way that I act," Schroeder confessed.
"I'm not going to find something like him again I just have to be really careful not to screw it up ," she said in her confessional.
"I'm a d**k. I'm an erect d**k," she cried to her boyfriend.
"I'm not walking away. We'll work this out," he said and, in his confessional, announced "I'm in love with her."
Her boyfriend wasn't the only one Schroeder fought with. She and her mom Dayna somehow got wrapped up in a nasty fight as well.
First, the star's mother told Cark that he was the "perfect man for my daughter . But my clock is ticking, and I need grandchildren."
Article continues below advertisement
She told her daughter: "I don't want you to be yourself and mess it up. I'm hoping he's a strong enough guy to go the distance."
"Oh my fu***ng God," was all Stassi could say about her mom, who dropped the bombshell. "She hasn't frozen her eggs yet."
Their mother-daughter bickering continued at dinner with Katie Maloney, Kristen Doute and their mothers.
"Every night I go to sleep and pray that she doesn't take her baggage from her old relationships and carry it into this," Schroeder's mom told the table.
"Stassi is b***hing about her mom being irrational. Hi pot, kettle, black," Doute snapped in her confessional.
As the bickering continued Schroeder's mother yelled: "Can everybody stop being selfish and stop thinking about themselves and think about that we're together?"
She stormed away from the table sobbing as all the other moms follow her.
"I just need her to hold me and tell me that she loves me. I love her," she sobbed.
Article continues below advertisement
"This whole situation feels very familiar," Maloney said while having flashbacks of other Schroeder meltdowns. "I feel like I'm watching my past and my future life colliding."
"Sometimes I get this victim mentality and freak out like my mom. And I'm scared that one day that's going to be me," Schroeder confessed.
Scheana Marie made a brief appearance on the episode, revealing that she was dating Bachelorette alum Robby Hayes, and his roommate, and SUR bartender Adam Scott.
She was kissing Hayes but not sleeping with him, she said, adding that she was not having sex with Scott either.
Schroeder, Maloney and Brittany Cartwright joked that she was living her own private Bachelorette.
James Kennedy's drinking problem was front and center again, with the entire staff getting together at SUR to discuss his firing.
Jax Taylor was glad Kennedy had been fired. "He's not Skrillex. I'm sure I could find someone else with a British accent and an iPod who could do the job without insulting my fiancée and calling Katie fat."
Article continues below advertisement
Lisa Vanderpump and the business partners told the staff that sales were huge on Tuesday nights when Kennedy DJd, but that excuse didn't fly with the group.
"It's upsetting that we are thinking of a business point of view and not our feelings. I was f***ing mortified. He's a mean person," Cartwright said.
Billie Lee told Vanderpump that she shouldn't allow Doute in when Kennedy was at SUR.
"One last thing about Kristen she is a trigger, she walks in here. You bring the f***ing trigger here and you wonder. As a business owner I would not let Kristen in here."
LaLa Kent was furious with Lee, shooting down her suggestion and telling her "We can go back and forth all day homegirl."
Lee fired back: "B***h you are not better than me."
Eventually, however, Kent and Kennedy made up.
"Let's put everything aside right now. I want to get down to the bottom why you feel the need to hurt people," Kent told Kennedy.
He, in turn, blamed alcohol, but she claimed she understood because she acted the same way.
Article continues below advertisement
"At some point we have to say we're too old for this. It's really bad James, and I don't think you realize," she said.
A tearful Kennedy told her "I miss our friendship a lot. This is so weird. I understand I f***ed up. I'm going to fix myself first before I fix everything else."
"I'm here to support you. You're going to be ok kid, we're all going to be ok," Kent assured him.
Stay with RadarOnline.com for weekly updates of Vanderpump Rules.
We pay for juicy info! Do you have a story for RadarOnline.com? Email us at tips@radaronline.com, or call us at (866) ON-RADAR (667-2327) any time, day or night.