Choose Your Friends Wisely Jen! Aniston's Wedding Toastmaster Howard Stern Called Star 'Annoying,' 'Horrible' Actress In Brutal '07 Tirade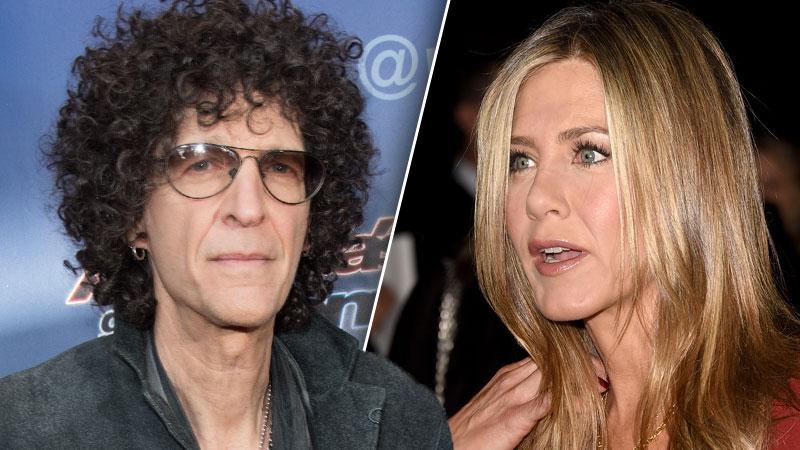 Article continues below advertisement
Stern, 61, said he was even among the inner circle of guests that knew the top-secret affair wasn't for Theroux's birthday party, as the couple claimed in hopes of keeping a lid on things.
"Some people were left out of it, but they contacted us and said, 'Look, please don't tell anyone,'" the Private Parts star said on his radio show after the event, adding, "They're so secretive, those two."
But while all may seem rosy behind the veneer of Hollywood friendships, RadarOnline.com has unearthed a shocking clip of the radio icon when he wasn't such a big fan of Aniston's -- slamming her as "an annoying c**t," and dubbing Brad Pitt leaving her for Angelina Jolie as the "smartest move of 2006."
Watch the video on RadarOnline.com (WARNING: Audio Contains Explicit Language)
The comments came during the news portion of Stern's Jan. 3, 2007 broadcast, while Stern was talking about how to put together an interview. He called Aniston the "worst guest" to have on any talk show, painting her as calculating in her reluctance to dish details on her personal life.
"No matter what show she comes on it's like a big deal: 'Jennifer Aniston's coming on, it's like a big deal, controversy, Brad Pitt left her.' And then she comes on and when asked about her love life, she goes ... 'I'm going to stop you right now, it's very personal, and everything is fine.'"
Article continues below advertisement
Following his impression, Stern lashed out, saying, "Shut up hag! show your t*ts!"
Stern's then co-host Artie Lange chimed in, "In every bio, she's supposed to be this hilarious comedienne ...."
Stern cut him off, saying, "Oh, she has a great sense of humor: She had such a great sense of humor that Brad Pitt got the f**k out of there!
"Smartest move of 2006: Going to Angelina Jolie, I mean there's just no doubt ... get away from sour puss."
The New York native continued doing impressions of the A-list actress speaking to her ex-husband Pitt, painting her as vapid in her attempts to evade the ever-present paparazzi.
He said with a feminine affectation, "Hello Brad, I don't want any paparazzi on our vacation, I'm taking every effort, every precaution so that the paparazzi doesn't invade our vacation time." (Ironically, Stern himself went on to complain about the presence of paps while on a winter getaway with Aniston, Theroux and Jimmy Kimmel at the Horrible Bosses star's Mexico vacation home in late-2013.)
Article continues below advertisement
Imitating Pitt, he continued, "You know what, you're so annoying, I'm going to go to Africa and adopt children."
Continuing with his tirade, Stern said, "Imagine what bad a l*y Jennifer Aniston must be -- or what an annoying c**t she must be -- that this guy is with a chick who has black children, Vietnamese children, children he just met in a week, and he's already their father!"
Stern sidekick Robin Quivers added that Pitt "adopted them immediately," while Lange chimed in, "A 4-year-old from a Third World country is not as annoying as Jennifer Aniston!"
Stern said that while he "never met Jennifer Aniston except for a brief time on the show -- I can't imagine the nightmare of listening to her rattle on about the business, about Brad Pitt, about paparazzi, about privacy, just shut the f**k up!"
Lange then said of Pitt, "It's like one day he woke up and said, 'You know honey, I looked at my driver's license and yeah I'm Brad Pitt, I'm out of here!'"
Stern added, "And you're some actress from Friends and you can't even act in any else but Friends because you're horrible!"
Article continues below advertisement
Again delving into his imitation of Aniston, Stern said, "Here was Brad Pitt's life before Angelina Jolie: 'Rahrahrahrah, paparazzi, rahrahrah, everyone bothers me, rahrahrah, friends, I want another movie, my hair, everyone wants to photograph me' -- can you imagine?!?"
Stern jabbed again at Aniston later that year, regarding her looks, on his Sept. 6, 2007 broadcast after Lange said he found the star to be "sexy as hell."
Article continues below advertisement
In his rebuttal, Stern said he hasn't related "to the common man for 17 years now," and that some people have a "perception ... that he should do the same thing over and over and over again.
"People go nuts because I'm on America's Got Talent and that's my sellout moment. Or if I have a reasonable conversation with the guest, I'm a sellout. Or if I don't do some bit I did 20 years ago, I'm a sellout," he said. "I'm like, 'OK, I'm a sellout: Why are you still listening?'"
And for those listening, live editions of the Howard Stern Show air on SiriusXM Mondays thru Wednesdays, while Artie Lange's Uncensored Podcast is available at artiequitter.com.