Shock Jock No More: Artie Lange & 'Stuttering' John Melendez Let Loose On Howard Stern's New Image –– Rip On Political Correctness, A-List Pals & Much, Much More!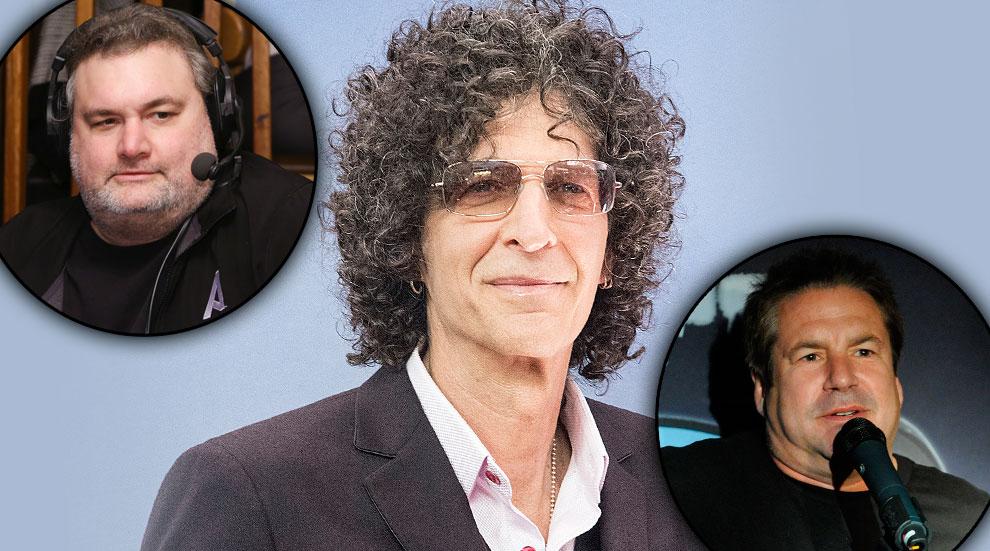 Two of Howard Stern's key ex-show members, Artie Lange and "Stuttering" John Melendez, expressed their shock over the radio icon's transition from bad boy shock jock to mainstream TV star in an unprecedented chat Tuesday, and RadarOnline.com has all the details for you.
Politically Correct
The trigger for the line of discussion was a recent NY Post article detailing the huge shifts Stern's made in his career. In the story, insiders said that Stern's radio show, once notorious for FCC fines over comedy related to race, sex and other bodily functions, has been tamed by an Sirius executive named Marci Turk in an effort to sanitize his image and make him family-friendly. "I think he's reinvented himself to be the nice guy, the guy that didn't want to put people down," said Melendez, who left the show in 2004 to work as Jay Leno's announcer on The Tonight Show.
Article continues below advertisement
'She Clearly Never Saw Those Transcripts!'
Another hotpoint was Stern's mended fences with the celebrities he used to rip on, such as Ellen DeGeneres, Kathie Lee Gifford and Rosie O'Donnell. Lange recalled how he and Stern "used to bash" DeGeneres relentlessly, adding, she "clearly never saw those transcripts -- I mean, vicious!" Referring to Stern's longtime 1990s punching bag Kathie Lee -- who the Private Parts star has since apologized to -- Melendez joked, "I was shocked he didn't do the eulogy at Frank Gifford's frickin' funeral!"
Gone Hollywood
Both Lange and Melendez seemed shocked at the bonds Stern's formed being in Hollywood's inner circle, as evidenced by his recent attendance at Jennifer Aniston's wedding to Justin Theroux this past summer. Stern's "like best friends with" Theroux, Lange said, describing Aniston's new husband as the "f**king pathetic pretty boy a** wipe who Jennifer Aniston just married," and "the type of actor you would like to punch in the face." Lange called Theroux the type of guy, who, "in the old days we would bash for hours and have fun doing it." He added, "I wouldn't be able to bite my tongue with that, I don't know how I could say I like that guy ... that was not the show we were on, it's a different world." Lange, who left the show in 2009 amid a drug crisis, seemed equally dismayed at Stern's budding friendship with Orlando Bloom: "He has a bromance with Orlando Bloom ... how do I keep a straight face? Can you imagine not goofing on Orlando Bloom? I wouldn't want to be on that show."
Article continues below advertisement
Double Standard?
Melendez, who has a stutter, was often ridiculed for his stutter by Stern, and with soundbites and impressions from Stern writer Fred Norris. Both Melendez and Lange said they were shocked over Stern's super-sensitive reaction to Drew Lynch, a stuttering comedian who appeared on a recent America's Got Talent this season. "Howard almost started crying! For 15 years, every time John opened his mouth" he was taunted relentlessly, Lange said. "For Howard to do that with a straight face, he should at least come clean and say, 'I know it seems weird ... it's such a 400-pound pink elephant in the room that you're not acknowledging the fact that, 'I used to torture a stutterer!'" Melendez added that everyone he knew was "astonished" over Stern's gooey reaction to Lynch.
MORE ON:
America's Got Talent
Watch the video on RadarOnline.com
No Longer Welcome?
Melendez and Lange, citing the NY Post report, cited the longtime absence of longtime Stern guest Gilbert Gottfried, whose shocking comedy has caused discomfort with corporate sponsors over the years, most famously his 2011 Aflac firing over insensitive tweets linked to the tsunami in Japan. Said Lange, "Gilbert was a little bit hurt by it and he called producer Gary Dell'Abate, who told him, 'We don't have comedians on anymore.' Meanwhile they do." Lange went on to say that he found it "odd." Melendez said of the situation: "I think they're afraid, I don't think Howard wants to pi** anyone off anymore."
Article continues below advertisement
Whitewashing
Melendez said he's heard rumblings that Stern has had his archives edited to remove any offensive content. "I've heard -- and I don't know if this is true -- at least from other bloggers and stuff ... that they have gone back and re-edited all the shows ... and took out some of the things that would be considered politically incorrect or whatever -- that's what I heard." Lange said he didn't think so, as many of the replays have a lot of the "crazy stuff" included.