'They're So Secretive, Those Two': Howard Stern Dishes Shocking Details On Jennifer Aniston & Justin Theroux's Hush-Hush Hollywood Wedding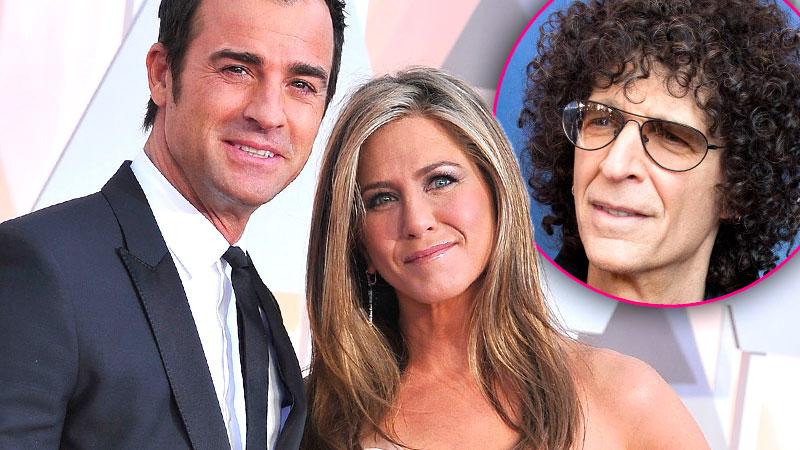 From the top-secret invite to a speech he reluctantly gave, Howard Stern dished tons on Jennifer Aniston and Justin Theroux's gala wedding on his radio show Monday.
As RadarOnline.com previously reported, the King of All Media and his animal activist wife Beth were two of the 74 guests present for the Friends star's nuptials to Theroux last week.
While Aniston kept things top-secret about what was happening -- telling guests that the party was for Theroux's birthday celebration -- the Private Parts star said he was among those in the know about what was about to go down.
Article continues below advertisement
"Did you know it was gonna be a wedding?" co-host Robin Quivers asked Stern. "Cause they said it was gonna be for Justin's birthday."
The Butt Bong Fiesta bad boy replied, "That was all horses**t: Some people were left out of it, but they contacted us and said, 'Look, please don't tell anyone,'" adding that he even kept things vague with his own mother when asked about why he was traveling to Los Angeles from his New York City home base.
He added, "They're so secretive, those two."
Stern -- who made headlines cutting into best bud Jimmy Kimmel's wedding dance two years ago -- said he was "f***ing miserable" when Theroux asked him to make a speech at the wedding.
Another factor that irritated the U.S. Open Sores star was that phones were confiscated at the affair -- which he complained about in his speech.
Other famous faces who made it out to the swanky party included Chelsea Handler, Whitney Cummings and Jen's Friends castmate Lisa Kudrow. Stern said he was seated at a table with Ellen DeGeneres, Portia De Rossi and Orlando Bloom.
Article continues below advertisement
Watch the video on RadarOnline.com (WARNING: Audio Contains Explicit Language)
Stern, 61, said he chatted up a storm with the Pirates Of The Caribbean hunk, and joked with Bloom that he must have passed on the opportunity for sex by attending the affair.
The radio icon then summoned Cummings to the table and jokingly asked her, "Whitney, would you take Orlando over there and b*** him? And she said, 'OK!' and she lifted up her dress and" played along, in jest.
The outgoing America's Got Talent judge said he and his wife were also invited on the couple's honeymoon to Bora Bora, but he was yearning to get back to the East Coast.
"I put my foot down, I said, 'Beth, I'm going home.' I was invited but look, I got to get home,'" the Crucified by the FCC star said.
Stern went on to compliment Theroux, saying, "I love him, and I told Jennifer she deserves a guy like this because after she's been very sweet and generous ... and a very nice person."
The Howard Stern Show airs weekdays on SiriusXM.