'We Didn't Make The Hot List': David Arquette Attacks Howard Stern Over Dinner With His Ex Courteney Cox, Wedding Snub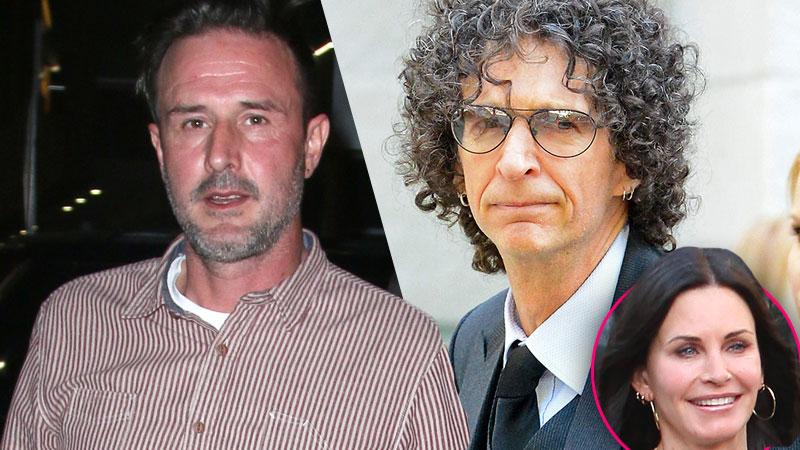 David Arquette let loose on Howard Stern for not meeting with him on a trip to Los Angeles, instead attending a dinner with his ex-wife, Courteney Cox, while out west.
"I thought you were a friend, you f*cking a**hole!" an emotional Arquette snapped at Stern, later giving additional reasons for his irate attitude: a "snarky" reaction to his wedding, and not letting him on the air with (Stern's previous Wednesday guest) comic Louis C.K. (who Arquette has past ties with).
Article continues below advertisement
"When you come to L.A., you don't call me, you call her?" Arquette -- a longtime regular guest and Stern ally -- rattled at the Private Parts star, who previously said he at pal Jimmy Kimmel's house where Cox and fiancé Johnny McDaid were present.
Stern denied any kind of intentional diss, saying that he was simply invited to dinner at Kimmel's house.
Arquette continued, "I feel so disrespected ... I got dumped for the more famous person ... we didn't make the hot list."
Of his , Arquette said, "I called up and you kind of f*cking busted my b*lls, bro," adding that he was mad at Stern for mentioning Cox in his on-air reaction.
Watch the video on RadarOnline.com (Warning: Content Contains Profanity)
The King of All Media responded that the conversation was as such because it happened on the air, where he has to keep things brief and entertaining.
Arquette noted that he should have been on the air for a "love fest" with Louis C.K., as he had hired him for a show biz job long before the comic became a well-known name.
Article continues below advertisement
"I've been in this game a long time and no one shows me the respect I f*cking deserve and I get a little frustrated about it," the sometimes-party animal whined. "It hurts my f*cking feelings that these b*tches in Hollywood don't take me seriously."
A weary Stern finally said he didn't think he "should talk to" Arquette anymore due to the frequent mood swings he has to deal with in his relationship with the actor.
The Howard Stern Show airs on Sirius XM weekdays.