Exclusive
A New Low? Dad-To-Be David Arquette Strips Down, Parties With Other Women In 'Wild' Night Out -- PLUS Inside His Three OTHER Nights Out Last Week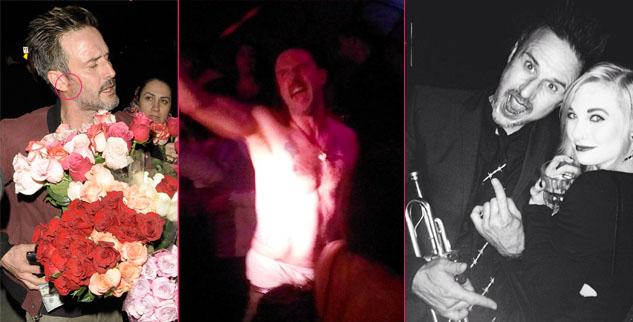 David Arquette is off the wagon and on the party train -- and not even his pregnant girlfriend, is slowing him down! RadarOnline.com has learned that Arquette was out on the town four different nights last week, dancing shirtless, hanging with other women and generally "going f***ing wild," according to an eyewitness.
Arquette started off the week at his Hollywood nightclub, Bootsy Bellows, on Tuesday. According to one eyewitness, he was "going f***ing wild (and topless)."
Article continues below advertisement
He was also spotted hanging with sexy girl group YLA, who posted a collage of flirty photos captioned, "You know you had a good time when none of the pictures are in focus ; )"
When Arquette left the club, sweaty and a little disheveled, he had red lipstick marks on his face, near his neck. McLarty was nowhere to be seen.
The next day, perhaps to atone for his nightlife sins, he was spotted taking a stone-faced McLarty on a shopping spree at The Grove in L.A.
Arquette stayed under the RadarOnline.com that night, but was back out at his other club, Hooray Henry's, on Thursday, where he hopped up onstage to dance during a performance by rapper Warren G well after 2 am. Watch the video:
Friday, he cleaned up in a tux for an appearance at the opening of an exhibition by artist Shepard Fairey in L.A.
And on Saturday, he was back at Bootsy Bellows, where he was spotted mingling with the crowd and playing a trumpet until well after 3 a.m.
Article continues below advertisement
After two years of sobriety following a stint in rehab, Arquette fell off the wagon this summer, as RadarOnline.com exclusively reported.
He later admitted to Howard Stern, "Id been sober for two years and four months and feeling that I wasn't being that true to myself, like what I enjoy and this and that," he said, confessing, "I'm a drinker so I drink a lot … I'll smoke a little weed."
Courteney Cox, the mother of his daughter, Coco, is reportedly worried about his relapse, but girlfriend McLarty has been supportive of his lifestyle, Arquette has said.