David Arquette Tells Howard Stern He's Gone Back To Boozing, Implores People To Play 'The Kindness Game'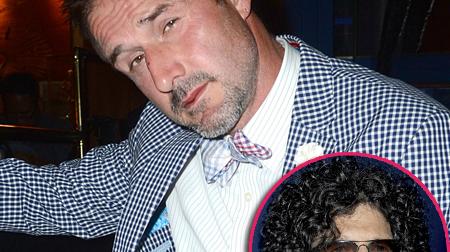 David Arquette didn't mince words about his sobriety -- or lack thereof -- speaking with The Howard Stern Show Monday.
"I'm drinking again … I'm a drinker, I drink a lot," the 41-year-old actor said, adding that he was hesitant to open up because of the negativity generated by others about his addiction issues.
When Stern asked him if he was doing drugs in addition to the drinking, Arquette hesitated before admitting, "Yeah, I'll smoke a little weed."
Article continues below advertisement
Article continues below advertisement
Arquette said the parting from the film was amicable, as "the director wasn't happy with his performance, and he has his own vision for it, so I get it."
Throughout his appearance, a raspy-throated Arquette said that in an epiphany, he came up with an idea he named "The Kindness Game" -- the concept that being nice toward others will be a form of currency in the future.
Asked about his lack of a voice, Arquette said that he lost it while singing at one of his clubs. Stern said he thought being around the club environment caused him to slip off the wagon.
Article continues below advertisement
"It is hard," Arquette said, noting that the lifestyle is all about celebration and revelry.
Stern asked the star how many drinks he consumed the night he lost his voice; Arquette responded, "I don't know probably had about four or five drinks … vodka, and I get strong drinks, but it wasn't like I was stumbling around … I had a driver, I wasn't like a knucklehead."
Arquette repeatedly reverted back to stressing how the world was not a nice one these days, saying that he was afraid to be too honest with the radio personality "because people can be so cruel.
"I think everyone's on their own journey," he said. "I'm tired of everyone judging others … I shut down all my social media because people were being too mean."
When an aggressive caller told the actor he was "full of s**t" -- and asked him how he thought his drinking would have a trickle-down effect on his daughter Coco -- Arquette acknowledged that being a parent ties into his own responsibilities, to how he has to keep things under control.
"I got my own problems, yes, and I will sort them out," Arquette said, adding that he sees a therapist.
Stern said he has friends who have gone back to drinking after being sober and some can cope while others can't.
"That's the question," his sidekick Robin Quivers chimed in. "Which group is David in?"
The Howard Stern Show airs on Sirius XM weekdays.