David Arquette Stands Up To Super Bowl Anti-Gay Haters: 'Jesus Preached Love!'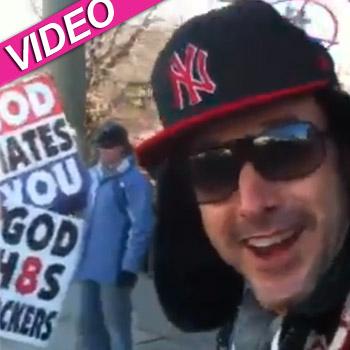 By Amber Goodhand - RadarOnline.com Reporter
Outspoken actor David Arquette took to the streets to stand up to anti-gay protesters, and RadarOnline.com has the video footage.
While in Indianapolis, Indiana, over the weekend for the Super Bowl, David encountered a mass of haters on the street (thought to be from the controversial Westboro Baptist Church) holding signs slapped with gay slurs and derogatory phrases and pictures.
Article continues below advertisement
"Look at all the haters!" David screams in the video he posted on Mobli. "Haters! Haters! Jesus preaches love, why are you preaching hate? Love, love, love!"
David has been a long-time supporter of equal rights and has a transgender brother, Alexis Arquette.
On Tuesday, California's ban on same-sex marriage was declared unconstitutional when a three-judge panel in San Francisco voted 2-1 that Proposition 8 violates the civil rights of gays and lesbians in the United States.