Panel Of Judges: California's Ban On Same-Sex Marriage Unconstitutional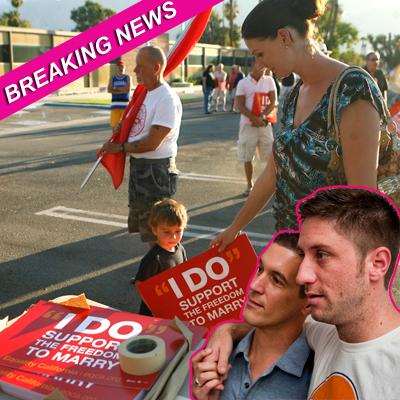 Proposition 8 -- which bans same-sex marriage in California -- was declared unconstitutional by a three-judge panel of the 9th U.S. Circuit Court of Appeals Tuesday in San Francisco, leading to what's expected to be a face-off in the U.S. Supreme Court as early as 2013. 
By a 2-1 vote, the court found Proposition 8 to violate the civil rights of gays and lesbians, upholding the decision of former Chief U.S. Judge Vaughn Walker, who ruled on the matter in 2010.
Article continues below advertisement
"Proposition 8 served no purpose, and had no effect, other than to lessen the status and human dignity of gays and lesbians in California," the court said in its ruling.
"Although the Constitution permits communities to enact most laws they believe to be desirable, it requires that there be at least a legitimate reason for the passage of a law that treats different classes of people differently. There was no such reason that Proposition 8 could have been enacted."
The court added that Walker, who is gay, was not biased in the decision made two years ago, addressing detractors who said the judge had his own agenda in declaring Proposition 8 unconstitutional.
In 2008, 52 percent of voters passed Proposition 8, less than six months after same-sex marriages were legalized in California.
In Hollywood, many celebrities -- including Lady Gaga, Brad Pitt, Angelina Jolie and Sean Penn -- have been vocal in their support of same-sex marriages.