David Arquette Eliminated From Dancing With The Stars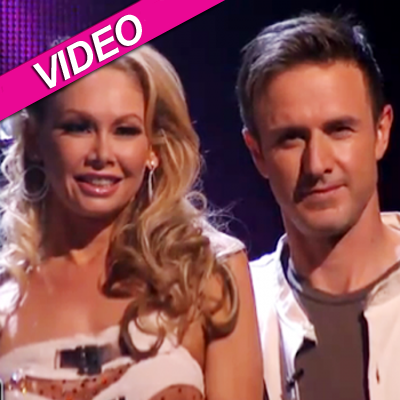 David Arquette was eliminated from Dancing with the Stars' 13th season on Tuesday's results show, a night after earning a respectable 44 out of 60 points for his Halloween tango.
The 40-year-old Scream star -- a fan favorite for his likeable personality and inspiring comeback from personal issues in the past year -- delivered a heartfelt speech after he was sent packing.
Article continues below advertisement
"This whole thing has been incredible. I've loved it," he said. "I came here to get to know more about myself, face my fears, entertain people and give America a chance to get to know me better and learn how to dance."
Host Tom Bergeron told Arquette -- who, throughout the season, found himself cheered on by estranged wife Courtney Cox and their daughter Coco, sitting in the crowd -- he'd "achieved all those goals."
On his swan song appearance on Jimmy Kimmel, Arquette apologized to the late night host, who bet $1,000 on him to win the ABC dance competition.
"I'm really sorry Jimmy, I feel like I owe ya $1,000," Arquette told Kimmel, who dryly responded, "I feel like that too."
Watch the video on RadarOnline.com
Justin Bieber -- who finds himself at the center of a paternity suit, reports Star magazine, which hits newsstands Thursday -- appeared on the show, performing "Never Say Never" and "Under the Mistletoe".
Nancy Grace, Ricki Lake, J.R. Martinez, Rob Kardashian and Hope Solo remain in the running when Dancing with the Stars returns on ABC at 8/7c Monday.