Exclusive
Courteney Cox Fumes As Troubled Ex David Arquette Is Becoming A Father Again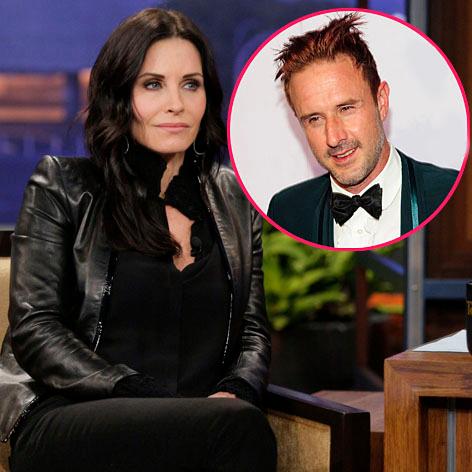 Courteney Cox's relationship with her troubled ex-husband David Arquette isn't so FRIEND-ly anymore after the news broke that he's expecting a baby with his girlfriend Christina McLarty, RadarOnline.com has been told.
"Courteney was shocked when she learned Christina is pregnant — because he's clearly still dealing with a host of issues related to his addiction recovery," a source dished.
The former Friends star, mother to their only child, daughter Coco, 9, "is having a hard time finding anything positive to say about David's decision to have more children, especially since he's burning the candle at both ends to be a present father for Coco and co-parent with Courteney."
Article continues below advertisement
The eccentric actor, 42, who finalized an amicable divorce from Courteney earlier this year, is having his first child with Entertainment Tonight reporter McLarty.
Multiple sources have said McLarty is about four months pregnant.
But Courteney's concern about the situation is understandable, as RadarOnline.com has previously reported, Arquette recently admitted to Howard Stern he's back to boozing.
Sources said his team wanted to do an intervention on the Scream star who has also been seen partying with women at strip clubs.
Meanwhile, Arquette is still Courteney's business partner in their production company.
"Courteney wasn't prepared for David's baby news and she says Coco wasn't, either. They are still letting this sink in even as David and Courteney see each other nearly every day as their producing business thrives."
Arquette recently said the Cougar Town actress, 49, is no longer seeing her co-star Brian Van Holt, but is romantically involved with another man he didn't name.
"She's with someone who loves and cares for her," he blabbed to Howard Stern. "That's all I care about."
But the source tells RadarOnline.com although Courteney is "putting herself out there, she doesn't have anybody she really trusts to run a house with. She's way far off from that level of trust with anyone except David.
"Although they're divorced, Courteney will never stop caring about David -- especially now that he's going to give Coco a half-sibling. She hopes he can clean up his act by the time the baby is born."