Exclusive
Dad-To-Be David Arquette's Team Worried He's Off The Wagon: We're Planning An Intervention!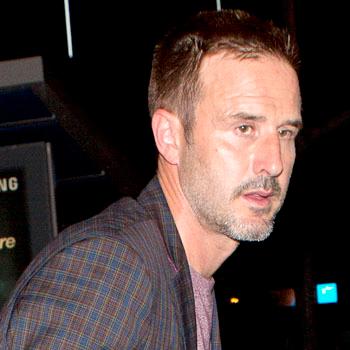 David Arquette has a baby on the way with girlfriend Christina McLarty, but RadarOnline.com has exclusively learned that before that baby pops out his team hopes to get him sober by planning a sneak intervention.
Making no secret of the fact he's recently fallen off the wagon — hard — Arquette told radio host Howard Stern that he's back to boozing and his team is concerned because that's bad for business.
Article continues below advertisement
"There's been major chatter among his team about an intervention for David," a source close to the situation told RadarOnline.com.
"Not only is he drinking a ton, but he's being careless about his reputation. Bragging about being drunk, going out in public and doing silly things. His team is genuinely concerned and plans to take serious action."
As RadarOnline.com reported in September, Arquette, 42, took McLarty to a romantic dinner at Mr. Chow in Beverly Hills — but after dropping her off at home (pregnant, we now know) he went to the Crazy Girls strip club where he partied until the wee hours of the morning.
"He's only hurting himself right now and his team is beyond frustrated," the insider said.
"He has a family to think about, a new baby on the way, a career…someone needs to give him a wake up call. And he'll keep going hard unless someone intervenes."
News broke on Tuesday that Arquette's girlfriend is around four months pregnant and it will be their first child together. They've been dating on-and-off for a couple years.
Arquette also has a 9-year-old daughter with ex-wife, Courteney Cox.