Girls, Girls, Girls! But Not His Girlfriend: David Arquette Hits The Strip Club Solo After Dinner With Gal Pal Christina McLarty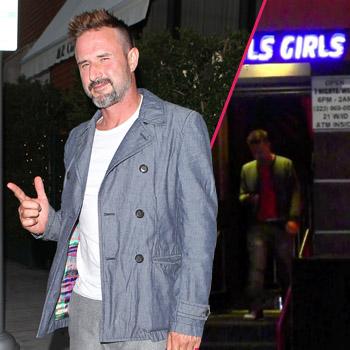 It had all the elements of a romantic date when David Arquette took his girlfriend Christina McLarty to dinner at Los Angeles hotspot Mr. Chow on Wednesday night, but just a few hours later, Arquette was spotted leaving the Crazy Girls strip club in the wee hours of the morning.
McLarty, clad in a sweet flowered dress with a sexy leather jacket and stilettos, took the wheel after their expensive dinner and headed home with Arquette by her side — but he was later spotted at the strip club!
Article continues below advertisement
Arquette chatted with two female passerby as he stumbled out of the club into a waiting car, looking worse for the wear.
The Scream star has frequented strip clubs despite his relationship status ever since falling off the wagon earlier this year.
As RadarOnline.com exclusively reported, Arquette visited Club Rouge in Richmond, Va., after a night of heavy drinking in June. He also was spotted at the town's Paper Moon strip club as well.
Arquette recently admitted to radio host Howard Stern that he is back to his old drinking and drug using ways.
"I'm drinking again," he said on The Howard Stern Show in August. "I'm a drinker. I drink a lot."
He also admitted to smoking weed, but insisted "I try to keep a cap on" the wild behavior.
As RadarOnline.com reported, however, he was fired from a recent movie role for partying too hard.
Arquette entered rehab for his alcohol abuse in 2011 and stayed sober for more than a year before slipping back into his old behaviors.