Exclusive
Howard Stern's Wife Beth Slams Critics, Says 'I Am Proud To Be A Crazy Cat Lady'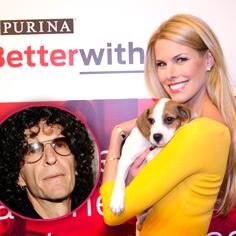 Howard Stern's wife Beth Ostrosky has found herself under attack many times from his rabid fans and haters alike for her tireless work with rescue animals, but in an exclusive interview with RadarOnline.com the shock jock's wife says slams the critics and says "I am proud to be a crazy cat lady."
The stunning blonde is hosting the Kitten Bowl during Sunday's Super Bowl game and she shot down the claims that she's using Howard's fame for her own benefit, telling Radar: "I am proud to be a crazy cat lady.
Article continues below advertisement
"I am saving lives. Animals can't always help themselves. People can call me crazy. I embrace that."
Beth explained why she and Howard love animals and wants to help them out.
"We have four cats in our house," she told Radar.
"Our lives are better with pets. The fostering experience has made us better people. Our pets define us as a family."
The pet advocate and author of NY Times Best Selling Book "Oh My Dog," also spoke about her experiences with fostering pets at the Purina "Better With Pets" Summit in New York.
Explaining the heartbreak she feels when she and Howard have to give up their foster pets, Beth said: "I cry like a baby when I have to give them up. They are my babies."
A former model, Beth says now her "passion is saving lives. Howard and I, our family is about rescuing. I've gotten calls at 4 am to go rescue a kitty and Howard was my driver to go get it."
For more information about Purina's Better with Pets Summit visit www.BetterwithPets.com and check out Beth on Hallmark Channel's first annual, "Kitten Bowl" Sunday, February 3 during the Super Bowl.