Prostitutes Selected For 'Get Grandpa Laid' Taking Contest Winner's Choking Death 'Very, Very Hard,' Says Surviving Grandson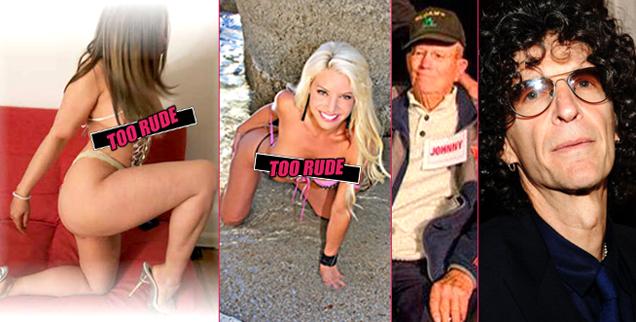 Caressa Kisses and Vanity, the two prostitutes slated to make whoopee with the 86-year-old winner of a Howard Stern radio contest called "Get My Grandpa Laid," are inconsolable in the wake of the man's death prior to their ménage à trois, and RadarOnline.com has all of the exclusive details for you.
Ed Moody opened up to us about his grandpa Johnny Orris', hours before the Illinois senior was set to pay a visit to the Moonlite Bunny Ranch to cash in his prize from the King of All Media.
Article continues below advertisement
"He had not been with a woman for 11 years since my grandmother died," Moody told us. "He had two girls planned out, Caressa Kisses and Vanity -- Caressa is all that he talked about -- he was going to spend the night with them, but he never got back to the Bunny Ranch.
"I have not talked to the girls, but I am told they have been taking it very, very hard."
Moody recalled the details of his grandfather's final moments, intimating that the elder might have been too anxious to rush through dinner to return to the Nevada brothel.
"Last night, I think he was eating too fast, because he wanted to get back to there quickly … but sadly he did not make it. I was with him … he was choking to death … he was eating prime rib and he started choking," Moody told Radar. "He told us he was choking, we gave him the Heimlich maneuver, we could not get it wedged" out.
"He just collapsed and passed away, they worked on him for 30-40 minutes."
Article continues below advertisement
Moody said the death "came as a shock," as his grandfather "was having the time of his life.
"He was having the greatest day of his life, and it went to hell. He was feeling great. He was being treated like a rock star," the grieving grandson said, before fondly remembering his grandpa's legacy.
"He loved to play cards, he was a free-spirited little man who was not afraid to tell you what he thought -- he was a Republican."
Hof proclaimed Thursday was "the saddest day in Bunny Ranch history" following Orris' death.
As we previously reported, Stern threw the contest in promotion of the film Bad Grandpa. In his chat with the radio icon, Orris, a cancer survivor, told Stern he'd been a widower the past 11 years after a 58-year-marriage that began when he was just 17.