Exclusive
EXCLUSIVE: Elliot Spitzer Is 'World's Biggest Hypocrite', Says World's Most Famous Pimp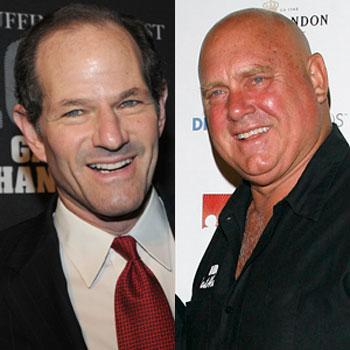 The owner of Nevada's most famous brothel has slammed hooker-happy former New York Governor Eliot Spitzer, labeling him "the world's biggest hypocrite" in an exclusive interview with RadarOnline.com.
Spitzer, the host of CNN's new primetime show Parker Spitzer, was former 'Client-9' of an illegal Manhattan call girl ring that was busted by the feds in 2008.
He has since reinvented himself as a political pundit.
Article continues below advertisement
Dennis Hof, the owner of the Bunny Ranch in Carson City, Nevada, told RadarOnline.com that he believes Spitzer -- famous for keeping his black socks on during wild sex romps -- should be in jail and not in front of a television camera.
"This is a man that has prosecuted prostitution cases and then turns around and hires a prostitute," Hof said.
"It is the lowest form of political corruption."
Hof also leapt to the defense of New York Governor candidate Kristin Davis, a former madam, who is now running for the state's top office.