Exclusive
EXCLUSIVE: Manhattan Madam Passes Polygraph Proving 'Elliot Spitzer Was My Client' - Read The Results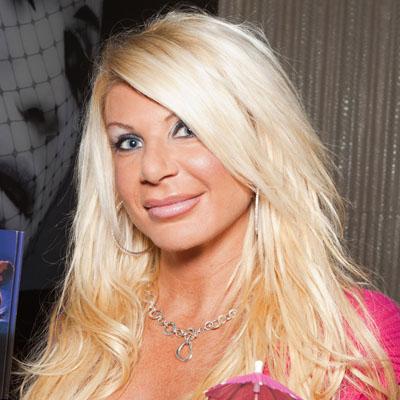 It's the naked truth.
The buxom Manhattan madam jailed after being busted in a high-priced call-girl ring took a polygraph test to disprove a claim by disgraced former New York Governor Eliot Spitzer - she passed and RadarOnline.com has the exclusive documents proving her claim.
Spitzer, the hooker happy ex-governor known to keep his black socks on during wild sex romps, has steadfastly denied ever patronizing Wicked Models, the Manhattan-based operation taken down in 2008 by federal authorities.
Article continues below advertisement
But according to the results of a lie detector, conducted last week, pimp Kristen Davis is telling the truth.
"Eliot Spitzer says that he only saw one girl ever and denied he ever used my agency," Davis told RadarOnline.com, who got five years' probation for promoting prostitution after serving three months in jail.
"I know that was not true and I wanted to prove that I was telling the truth, so I submitted myself to the polygraph."
And in doing so Davis is also revealing the name of another Eliot Spitzer call girl, Irma Nici, the Bosnian hooker who claims she had sex with soccer superstar David Beckham, but has provided zero proof.
Read the results here.
VIDEO: Eliot Spitzer's Ex-Mistress Doles Advice To Tiger's Girls
The ex-England captain, 35, is suing 26-year-old Irma for $25 million over her claims that she had a threesome with Becks in New York in 2007.
Article continues below advertisement
During the polygraph, Davis told a New York forensic psychophysiologist that Irma, whose bedroom name is Aubrey, once recognized "a client from the front page of the newspaper" as being Spitzer.
VIDEO: Eliot Spitzer Speaks Out On Sex Scandal
Davis, 35, said, "In audio recordings made prior to my arrest, Irma stated that she has seen Eliot Spitzer, several times, that he was aggressive and that Winnie Wong, my former phone booker, first booked her with him at my 38th Street apartment sometime in 2005."
Davis added, "In 2005, and also in March 2008, prior to my arrest, I was informed by Winnie Wong that Eliot Spitzer using 'E.S' called an agency she used to work for named Fleur D'Elite and tipped them off to a potential sting of escort agencies."
The former madam, who ran multimillion-dollar empire before her demise, returned a score of 21, which the administrator noted was "an indication that she was telling the truth."
Article continues below advertisement
A score of 13 or higher indicates truthfulness, while deception is judged with a score less than 13.
Spitzer, who now hosts the primetime show Parker Spitzer on CNN, was outed as "Client-9" in another federal hooker probe involving the New Jersey-based Emperors Club VIP.
When he was linked to Davis, at the time, a spokesman insisted to the New York Post, "Mr. Spitzer was not ever a client of Ms. Davis."
Now Davis is challenging the politician-turned-CNN host, "I challenge Eliot Spitzer to take a lie detector test but I know he'll fail!"
Davis has claimed Irma was "tipped well" by Spitzer and "she was the one who never complained about him".
The psychophysiologist noted, "in order to find the truth, it is recommended that Ms. Irma Nezirovic submit to a polygraph examination" but she failed to turn up on the same day as Davis, as was scheduled.