Exclusive
Watch: Meet The South Korean Dog Alyssa Milano SAVED From The Slaughter House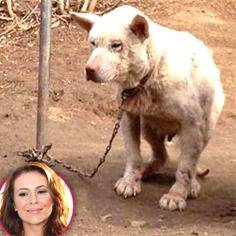 Alyssa Milano took on Jay Mohr for his cruel statements about her weight and now she's taking on the cause of animal cruelty and RadarOnline.com has exclusive details about the dog she rescued from the slaughter house in South Korea.
The Who's the Boss star couldn't bear to see an abused and neglected Jindo dog be turned into dinner meat. The beautiful dog, who was named "Bomi," which means "spring" in Korean, was chained to a metal pole and her body was covered with mange and open sores, The Fuzzy Pet Foundation told Radar. Shockingly, it was discovered that the female dog had given birth to several litters that were found frozen and dead in the dirt.
Article continues below advertisement
Alyssa posted a video of the dog with gut-wrenching images of her deplorable conditions and the foundation revealed that she covered the dog's entire flight cost to be flown to the United States and given to a foster home where she is thriving in her recovery.
"I am thrilled to have brought Bomi to safety, and look forward to the day she finally gets adopted to a forever home," Alyssa told Radar exclusively.
"My heart goes out to the countless other dogs and cats who are suffering from animal abuse, struggling to survive on the streets, or waiting in animal shelters for a quality home," Alyssa said.
"For many months, TFPF worked hard to make arrangements for Bomi's rescue. We wanted to make sure we could provide Bomi with top-notch veterinary care, and secure her a lifelong home," says Sheila Choi, Founder and CEO of The Fuzzy Pet Foundation. "We wanted to have a proper plan in place so that we were not just naively flying an animal to a different country amid the animal overpopulation crisis happening everywhere in the world."
Bomi is available for adoption. Inquiries can be e-mailed to info@tfpf.org.