Wonky The Abandoned And Abused Special Needs Puppy Is Looking For A Home!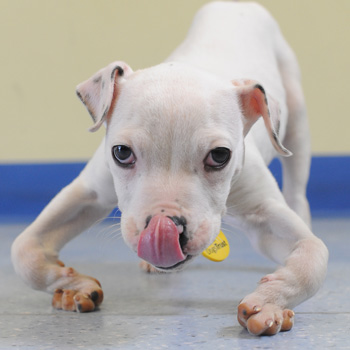 Lucky for this absolutely adorable little puppy, straight legs have never been a criteria for cuteness!
Aptly named Wonky because of a leg condition that has caused "knuckling" of her joints, making her legs stick out in random directions, the abandoned eleven-week-old Staffordshire Bull Terrier cross was found wandering the streets of Leeds, England, earlier this month and now rescuers are struggling to find her a new home that will fit her special needs, the Telegraph.co.uk reports.
Article continues below advertisement
"It's such a sad case because this is completely preventable if only she'd had the right love and care. She has not had the right supplements to enable her to grow properly and so her front legs are too weak."
Staff at the animal shelter believe that Wonky may have been taken from her mother too early and then callously abandoned, and that a lack of nutrition and a poor diet caused her legs to be underdeveloped.
Since she arrived on February 7, the lopsided pup is already showing signs of recovery thanks to regular physiotherapy treatments that stretch out her legs - and now her new-found international celebrity status will no doubt have potential new owners flooding in.
You can contact Dogs Trust Leeds via their website.