King Of All Mea Culpas: After Relentless Bullying During 90s, Howard Stern Asked Kathie Lee Gifford, 'Can You Forgive Me?'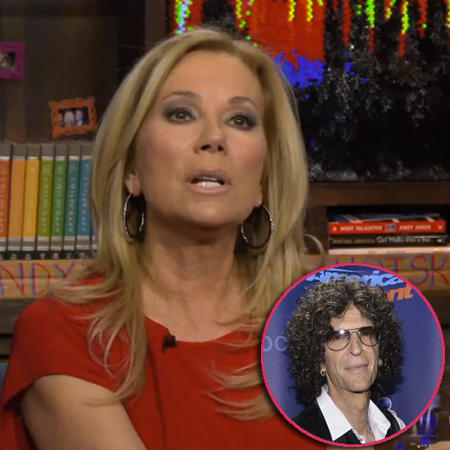 Howard Stern's evolution continues.
The 60-year-old America's Got Talent judge made amends for his years of vicious tirades directed at Kathie Lee Gifford, the TODAY show personality told Andy Cohen on Thursday's edition of Watch What Happens Live.
"I've never had anything against Howard … I never even met Howard until two years ago until he began doing America's Got Talent," said Kathie Lee, with her TODAY co-host Hoda Kotb noting that it was the King Of All Media who'd "reached out to" Gifford to try and make things right after making her a punchline on his radio show for years.
Article continues below advertisement
They Make How Much?! The 23 Highest-Paid Reality TV Stars
When Stern made a appearance on TODAY in 2012 to promote the network's summer talent show, Kathie Lee said she "went downstairs, and I told him 'Hi, I think it's time we probably say hello,' and he was stunned."
Kathie Lee, 60, said after that run-in, she boarded a cross-country flight to watch her son Cody graduate from college, and when she landed, she found a message from the Private Parts star on her phone.
In it, Kathie Lee said Stern said he was "so sorry," and that she "never deserved" the flak he routinely foisted upon her and her family.
She said when she called him back, he told her, "You p*ssed me off because you've always been so nice, and you p*ssed me off, cause you were everything I wasn't."
Watch the video on RadarOnline.com
Kathie Lee called their 15-minute chat "a beautiful conversation," and that Stern "basically said, 'Can you forgive me?'
"I said, 'Howard, I forgave you a long time ago. I'm just so glad that now you're doing your own good work that everyone of us has to do when we've hurt people, and asked for forgiveness.'"
"Wow," a shocked Cohen said. "You heard it here first everybody, that's amazing."
The Howard Stern Show airs on SiriusXM; Watch What Happens Live Thursday.