Aniston Angst, Shrieking Kids & A Dozen Sex Toys: A Look Inside The Eccentric Lives Of Angelina Jolie & Brad Pitt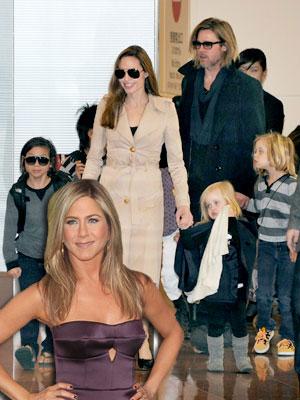 As private as they might be, has got an exclusive look into the lives of Brad Pitt and Angelina Jolie and we've got a sneak peek for you, right here on RadarOnline.com.
Among the bombshells uncovered in the report include: Pitt's penchant for the pot pipe, Jolie's obsession with image, their unorthodox parenting style, and the ups-and-downs of their sexy, sparkling relationship.
An insider -- on newsstands now -- that Jolie "is very controlling of Brad and his press, his wardrobe – everything. He does what she says, but in private he likes to smoke cigarettes and marijuana. He's a huge stoner.
Article continues below advertisement
"He tells Angie that he's quit pot, but he still the same guy he was before they met."
The insider went on to add that Pitt and ex-wife Jennifer Aniston were "massive stoners" during their relationship, but that the Fight Club star, 50, "was just better at hiding it then Jen."
Despite essentially stealing him away, the "super vindictive" Jolie "hates Jennifer Aniston still and is very competitive with her" on personal and professional levels.
"Angie controls her press and image with an iron fist. She likes to project this kind of hippie, Audrey Hepburn thing, where she flies around the world doing all the selfless stuff, but it's always orchestrated."
In addition to the unique dynamic between the mega-stars, the source said that the guiding hand of the house does not belong to Brad or Angie, but rather, it's the children -- Shiloh, Maddox, Pax, Zahara, Vivienne and Knox -- who "run the house," the insider told Star.
Article continues below advertisement
"Those children are wild. There's constant screaming at all times of the day and night and they are extremely messy. You will find food, empty McDonald's wrappers, candy wrappers, piles of toys and clothes, even dead bugs all over the house!
"It's disgusting, but Brad and Angie think it's great. And the housekeepers expected to clean it all up!"
The source said that Pitt is the more disciplinary parent of the two, but in a constructive way, as "he's always coming up with projects to keep the kids out of mischief."
"The biggest point of contention has always been the kids and how to raise such an unruly bunch," the insider said. "And both of them are insecure about the relationship: she worries that he cheats, and he think she'll cheat because she's 12 years younger than he is.
Despite the family's issues, Jolie, 38, remains "insanely devoted" to the Moneyball hunk.
"She fell for him the minute they met, and he loves the way she is into him," the source told Star.
Article continues below advertisement
One area in which the Mr. & Mrs. Smith stars don't have any problem is the bedroom, as an insider says "they go at it like rabbits."
"They are very kinky and will spontaneously hook up any chance they get," the insider said. A woman who once cleaned the A-listers' jet told she was "shocked" to find an arsenal of "like, a dozen" sex toys — including vibrators and butt plugs — under the comforter.
"Brad and Angie are much more mellow than they used to be," the insider concluded. "Three or four years ago they were fighting all the time, but now they seem very comfortable together and put up with each other's foibles.