Exclusive
Tatts Romantic! Brad Pitt, Angelina Jolie Plan 'Weird' Matching Tattoos For Their Wedding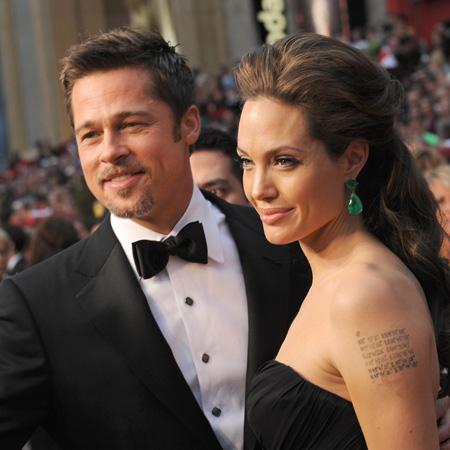 Brad Pitt and Angelina Jolie are getting matching tattoos for their upcoming wedding, RadarOnline.com has learned.
The superstar couple are deciding "with what and where they will ink themselves to mark their long-awaited marriage," a source told RadarOnline.com.
"Brad really wants to do something special, and frankly, a little weird to mark the occasion, and they want to get the exact same design, in the exact same spot in their bodies."
Article continues below advertisement
Pitt, 50, and Jolie, 38, share a love of body art, but according to the source, the actor's fascination with tattoos "took a big leap" once they finally got engaged in 2012.
"Brad is like a teenager again as he and Angelina decide on their matching tattoos," the source said. "He's let Angelina help him pick out tatts in the past but this time it's a real collaboration.
"Don't expect it to be something that's visible when they're out day to day. They might just acknowledge to the press that they did it, but keep the actual content of the tattoos as their love secret."
The 12 Years a Slave actor and producer reportedly has at least nine tattoos, including one of Oetzi the Ice Age caveman on his left arm and Jolie's birth date in written in Khmer on his stomach.
Jolie has more than a dozen examples of body art, including the geographical coordinates of their six children and a tiger tattoo on her lower back.
Pitt has begun bringing tattoo magazines into his Los Angeles office, "and leaving them in the lobby when he's done with them, just so he can see if any designs capture visitors' imaginations," the source said.