Hot Potato! Troubled Tori & Dean Spar Over Her Meeting With Ex, AA Meetings & More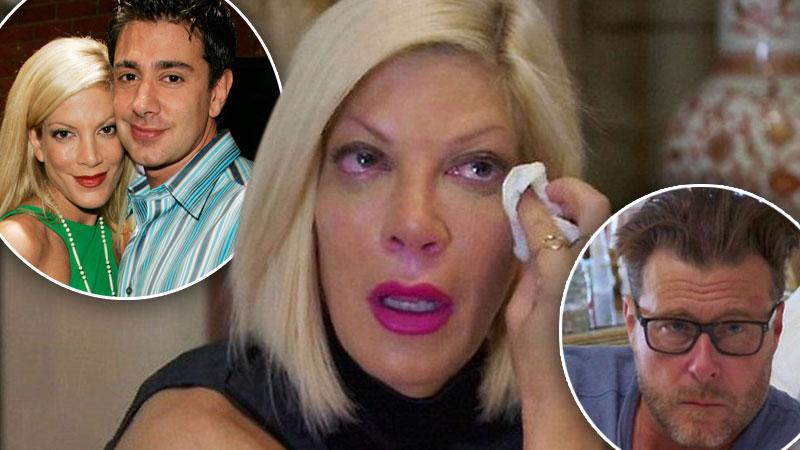 True closure — or cold-hearted punishment?
After an emotional two-hour meeting with her first spouse Charlie Shanian, Tori Spelling told her cheating husband Dean McDermott that her first spouse was smart and nurturing.
Still, the reality star said she had no regrets about leaving Shanian for him, because of their four children.
That's what viewers saw on Tuesday night's episode of True Tori on Lifetime as Spelling continued to air her dirty laundry in the wake of her marriage scandal.
Article continues below advertisement
As RadarOnline.com readers know, McDermott, 47, betrayed Spelling, 41, by having a two-day affair with Emily Goodhand in 2013 while shooting his show Chopped Canada in Toronto. Since then, he and Spelling have stayed together while exploring the marital fallout on True Tori.
On Tuesday's show, Spelling sought closure by meeting Shanian, whom she hadn't seen since breaking up with him in a therapy session. (The former Beverly Hills 90210 star had cruelly cheated on him with McDermott.)
Incredibly, Shanian, Spelling's husband from 2004 to 2006 agreed to have a pow-wow with her. A nervous Spelling drove to a church where Shanian had requested they meet. However, the playwright refused to have their talk filmed for TV, and viewers never saw him on camera.
After speaking to Shanian for two hours, Spelling cried to producers that Shanian had told her he'd had to come to grips "with what others said publicly about our relationship, that I never loved him.
Article continues below advertisement
"He's a good man."
Once she arrived home, McDermott, who was in bed with a migraine, asked what had happened.
Spelling started crying hysterically again and then told Dean that Shanian had felt like a family member.
"It felt like someone you knew so well, someone you felt safe with, comfortable with, nurtured by and then it felt like a loss," she said. "I remember how safe I felt with him — when I left, I just suddenly felt really alone and I don't know why."
When McDermott asked if she had feelings of regret, she affirmed, "Yeah, I regret how I handled things, obviously. I told him that, that I regret that every day of my life.
"If I had it to do over again, I wouldn't have done it the way I did it," she said. "He's a good man, smart and just gets it."
Confused McDermott asked, "Gets what?"
Tori replied, "Life, people, relationships, how people change, evolve, and anger and resentment."
Article continues below advertisement
As RadarOnline.com previously previewed, a worried McDermott asked her if seeing Shanian evoked feelings of anger about the Chopped Canada star cheating on her.
"A little bit," Spelling revealed.
McDermott then asked if any part of her wondered what it would have been like if she stayed with Shanian.
"No, 'cause then I wouldn't have my babies," she replied about their brood of four.
McDermott sighed, then said, "I'm sensing a lot of doubt from you -- about me, about us."
Spelling replied, "You make choices in life, right?"
"What does that mean?" a visibly downcast McDermott probed.
Spelling said, "I can't doubt you. I made that choice. I chose to not be with him. I chose to be with you. Did you turn out to be different than how I thought you would be? Yeah. But I made the choice so I need to figure it out."
The actress said they needed to move on and grow stronger, and added, "Everything happens just as it should, right?"
Article continues below advertisement
McDermott replied, "I guess."
But as viewers have seen throughout True Tori, their marital journey continues to be rocky.
During the episode, Spelling was outraged that McDermott had been shirking his AA meetings. When she raised the issue, McDermott acted defensive about Spelling nagging him.
As he's admitted before, McDermott, who was hospitalized after expressing suicidal thoughts, said, "Anything good in my life I want to destroy — I literally I have a demon inside my head."
But Spelling didn't seem sympathetic about McDermott's drama and told the cameras she wasn't taking care of herself and was spending all her time dealing with his issues.
Meanwhile, McDermott took a breather by going on a bike ride with his friend, Joy, telling the cameras that physical activity made him feel better.
Upon returning home, however, he found Spelling at home feeling frazzled with the kids and not happy that he'd gone cycling.
Article continues below advertisement
"I feel like he's not financially supporting our family," Spelling snapped to the cameras.
Viewers then saw her trying, and failing, to microwave a baked potato for the kids. But when McDermott took over and tried to fix the potato himself, Spelling got enraged.
The two then fought about McDermott allegedly making Spelling feel like she was a failure for not being able to cook the potato.
"Your bad feelings are coming from you!" McDermott charged.
"Why are you even with me?" he said.
"I don't know anymore," she told him.
A producer then asked Spelling, "What's keeping you in this marriage?" with Spelling citing the children as the big reason.
Meanwhile, McDermott fumed, "My head is going to pop off my shoulders right now."
In couples' therapy, Dr. Ann Wexler chided McDermott for avoiding AA meetings while Spelling asked him, "Do you already drink?"
Article continues below advertisement
"No," he insisted.
But McDermott did admit in the therapy session, "I don't know what the f*ck is wrong with me. I've been a miserable sh*t lately. I've been depressed, self-loathing."
Watch the video on RadarOnline.com
Also on True Tori, McDermott received devastating news that one of the guys who was in rehab with him had killed himself.
"I was there, I wanted to do that," McDermott, who had been put under involuntary psychiatric hold at the time, told the cameras. "That could have been me. I haven't been going to meetings as much as I should be."
Later, Spelling attended an Al-Anon meeting at McDermott's request, and he arrived home after an AA meeting with a nine months sober chip. But he also told Spelling he'd shared with the group, "I'm miserable and I'm unhappy."
True Tori airs Tuesdays at 9/8c on Lifetime.