'You Abandoned Me': Apollo Nida Blames Phaedra Parks For His Legal Problems, Demands Divorce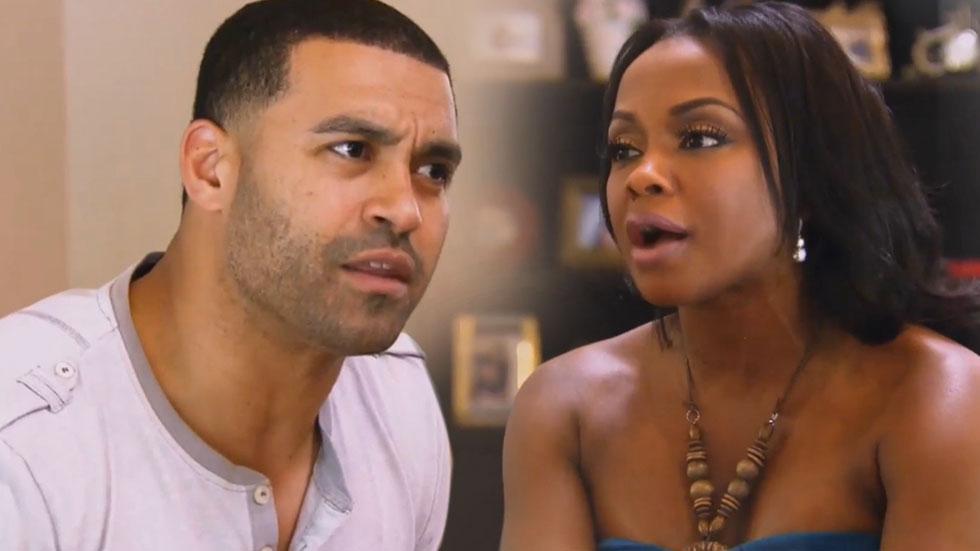 Jailbird Apollo Nida asked wife Phaedra Parks for a divorce – and implied his financial crimes were HER fault on the season seven premiere of The Real Housewives of Atlanta.
Sunday night's return of the hit Bravo reality show focused on the ugly end of Nida and Parks' marriage after he pleaded guilty to bank fraud and identity theft and was sentenced to eight years in prison.
As RadarOnline.com has previously reported, Parks didn't show up for Nida's sentencing court date, and instead hid out in a hotel with their two sons, Ayden, 4, and Dylan, 18 months.
Article continues below advertisement
Nida, 35, poured his heart out on camera about how entertainment attorney Parks, 43, ditched him at his toughest moment.
And at the end of the episode, viewers saw Parks come back to the family home with their boys to face a livid Nida.
"You missed my court date and everything," he snapped.
"I supported as much as I could," she claimed.
But Nida charged, "You abandoned me. Family is supposed to stick by each other."
She then asked if he was thinking about family when he committed his crimes.
In a shocking claim, Nida said, "Some of the decisions I made were based on how you act. They weren't about me."
Parks told the cameras Nida was lashing out and trying to make her the scapegoat for his misdeeds.
Nida sneered at his successful wife, "Every time you get paid, you run off with the check. We're talking four years, I have not touched none of the money that we made."
Article continues below advertisement
Shockingly, the reality TV husband implied that he even had helped out Parks in certain financial situations.
"I've never needed your money," Parks retorted.
Then Nida, who was previously in prison from 2003 to 2009 before romancing Parks, claimed when he was her boyfriend, he had told her he was in no position to marry — but she made a deal with him in which he'd only pay their utilities only until he got back on his feet.
Two months into the marriage, however, Nida claimed she demanded he pay her back $3,200 for clothes he had purchased.
"Was I supposed to be naked?" he asked.
"I told her I wasn't ready to take on the lifestyle she was living at that point," Nida told Parks' mother Pastor Regina, who had accompanied her to the house."I needed time and she told me don't worry about it because she was financially established and that it shouldn't be a problem."
Article continues below advertisement
However, Parks said that Nida had lied to her.
"I paid all the legal bills," Parks added, but Nida said he'd worked for the money she'd used for the legal bills.
He told the cameras, "I can't sit there and say, 'You work every day, I deserve 50 percent of your paycheck.' All I'm saying is, 'That paycheck that you earned, I have helped you earn that paycheck.'"
Nida whined that he couldn't even buy a hamburger with the money he helped them save while Parks told the cameras, "I have been a great wife. He's definitely out of his mind."
"Why did she marry me?" Nida sighed in confessional. "Was it solely for the kids? Was everything complete in Phaedra Parks' life except for a husband and children and I seemed to be a good specimen? But love goes deep. When you love someone, love is unconditional.
"You help that person no matter what."
Nida told her he wanted to go his own way and Parks knew what that meant — her husband was asking for a divorce.
Article continues below advertisement
Earlier, viewers saw Nida talking about sentencing day to co-stars Kandi Burruss and her husband Todd Tucker: "Not one f*cking phone call from my wife to say, 'Are you okay? How are you doing? What happened?' Nothing."
Nida also raged to his half brother, Michael, "She didn't write a letter for me, take a stand, tell the judge he's a good father."
But Parks told viewers her point of view: that Nida had committed crimes "for his own selfish greed and gain."
Parks also said she had several careers and no time "to babysit a grown man."
Nida told his brother tearfully, "I love my sons, man."
Still, he later admitted to Michael and their mother that his addiction to fast life and fast money could keep him from his kids.
Also on the premiere, fans saw NeNe Leakes emceeing the risqué Cirque du Soleil show Zumanity in Las Vegas, and Burruss and Tucker discussing his daughter Kaela, 18, moving in with them.
Article continues below advertisement
"He did not find out he had a daughter until she was 5-years-old," Burruss revealed.
Now, the newlywed couple will face different parenting styles as Tucker is strict while Burruss allows her own daughter, Riley, to have two 60-inch TVs in her bedroom.
"I believe children should be rewarded for doing well," music mogul Burruss admitted.
Also, Kenya Moore revealed to pal Cynthia Bailey that she'd traveled around the world for three months, trying to forget the horror of co-star Porsha Williams physically attacking her at the RHOA reunion show.
Meanwhile, Williams showed off her body — boob job and all — in revealing lingerie and snapped to the cameras about Moore, "Will an apology ever come out of Porsha's mouth? No."
Watch the video on RadarOnline.com
Bailey revealed her feud with former bestie Leakes was just as bad: "Everything's better because she's not in my life."
The Real Housewives of Atlanta airs Sundays on Bravo at 8/7c.