'I'm Not Bowing Down To Anyone For Something I Didn't Do!': Defiant Teresa Giudice Tells Dina Manzo She Won't Apologize To Teresa Aprea For Cheating Rumor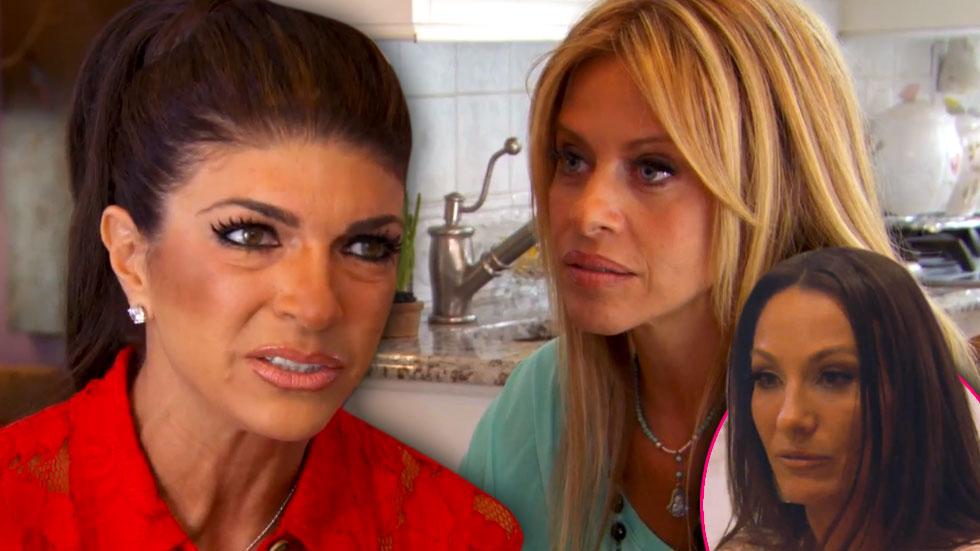 Article continues below advertisement
"I let my guard down and something comes up about this horrific rumor about my mom," the twin said. "That my mother slept with my brother-in-law."
Rosie responded, "That's f*cking disgusting! Who would even repeat that? The whole word motherf*cker has a whole new meaning!"
Nicole then explained that it was Amber Marchese and Teresa Giudice who heard the rumor from Victoria Gotti.
"When you hear a rumor, a good friend lets it die," Nicole said. "With all Teresa is going through, I've been there from day one. I have your back. When it comes to family, I respect that in return."
Rosie said in her confessional, "Teresa should have never repeated it. The only thing that could come out of repeating a f*cking disgusting rumor is trouble and you're just as guilty as the person who started the f*cking rumor."
Meanwhile, Teresa Giudice, Melissa Gorga, Amber and Dina Manzo got together for a spa day. During the outing, Melissa received a phone call from Teresa Aprea. On speaker, the ladies heard Teresa invite only Melissa and Dina to a gathering at her friend's house.
Article continues below advertisement
When Melissa took the phone off speaker and walked away from the ladies, Teresa Giudice began to scream, "We're not invited. Oh my God! I'm going to cry!" She and Amber then hugged each other as they screamed and fake cried while Melissa was on the phone.
"We already know they're not speaking to Amber so that's not a question, but why wouldn't you invite Teresa?" the jail-bound housewife asked in her confessional, referring to herself in third person. "I didn't start the rumor. I didn't spread the rumor so I don't get why Teresa would be mad."
Teresa then explained to Dina that the twins should reach out and speak to her themselves before Dina's event for her charity, Project Ladybug, to avoid drama.
During Teresa and Rino Aprea's gathering, Teresa told Dina and Melissa that Teresa Giudice let her down by repeating the rumor about Rino sleeping with her mother to Dina.
Teresa told them, "Do I think she owes me a sincere apology? Yes."
Dina then said in her confessional, "I think Teresa has a point about wanting Teresa to apologize. It's not about what Victoria said it's more about entertaining the whole thing. And I'm willing to go talk to Teresa about it."
Article continues below advertisement
And talk to Teresa she did!
When Dina explained to Teresa Giudice at her house with Melissa that the twins think she should apologize, the hot-tempered, table-flipping Teresa that viewers have been missing all season started to return.
"I have nothing to do with this at all," Teresa said. "I will not be provoked. Do you understand?"
She then explained that with everything going on with her trial, the last thing she needs to do is apologize to the twins.
"Dina and I, we don't always agree on everything," Teresa said in her confessional. "Dina should've said to them, 'Why does Teresa need to apologize to you for?'"
Melissa added, "I think it was because it was your friend who came and dropped this bomb."
Teresa fired back, "There's bombs dropped about me all the time … that's life!"
Teresa then told Dina that she confided in her as a friend and did not want her to tell anyone about the rumor unless Amber said it in an "improper way."
"I'm not bowing down to anyone for something I didn't do," Teresa said. "You want me to apologize to them? For what? What am I apologizing for?
"I can't even believe they're making it go this long," Teresa continued. "Like are you kidding me? To even ask me that, especially what I'm going through it's like just leave me alone!"
The season finale of Real Housewives of New Jersey airs Sunday at 8/7c on Bravo.