Exclusive
Hank Is 'Lying!' Eyewitness To Baskett's 'Steamy' Transsexual Encounter Tells All — Watch The Jaw-Dropping Video Confession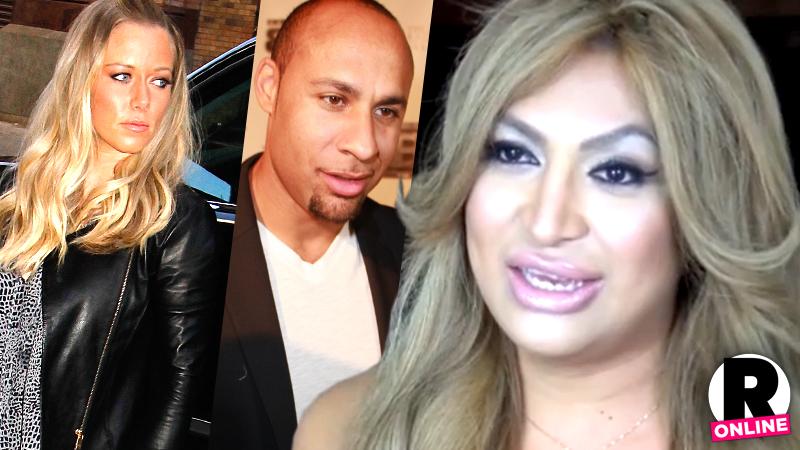 For months, Hank Baskett has scrambled to explain away the bombshell allegations from transsexual model Ava Sabrina London, who claims the two had a sexual romp. After first telling Kendra Wilkinson that it was all a lie, and then claiming that he only went to her house to get drugs, Baskett has changed his story many times. Now, an eyewitness who met the married reality star at London's Sherman Oaks apartment on that now infamous April afternoon is speaking out exclusively to RadarOnline.com to set the record straight — defending her friend and calling Baskett out for being a "liar."
Article continues below advertisement
In an exclusive video interview, London's best friend, Zhora Tillett, told RadarOnline.com about the pair's allegedly "steamy" sexual encounter, including the moment she claims Baskett walked out of the shower wearing only his towel and introduced himself using an alias!
"I was there when he called Ava the first time. I was there when he got to the apartment. I was there while they were in the room together. I met him after he took a shower at the house," Tillett told RadarOnline.com. "Hank Baskett and Ava Sabrina London had a sexual encounter."
Tillett's claims come on the heels of recent reports that the 32-year-old father-of-two allegedly failed a lie detector test during filming for Marriage Boot Camp Reality Stars, when he said he didn't have sex with London, who was born a man. He then reportedly admitted to meeting with the video vixen, but only to smoke marijuana.
But Tillett says there's no way that happened.
"I obviously know Hank Baskett is going to fail his lie detector test because he was obviously at the apartment that day he met Ava," Tillett said. "Even when he knew the story broke out, he thought it was me who sold the story."
Article continues below advertisement
Speaking of polygraphs, as RadarOnline.com has reported, London, 25, passed a test conducted by former Secret Service agent Joseph Paolella, a member of American Polygraph Association.
As for Baskett, he "is obviously lying about coming to the apartment to get drugs," Tillett continued. "Drugs were never involved when they met. We've never done drugs in that house so he's obviously lying."
In fact, Tillett's version of the events is dramatically different than Baskett's tale. Like London, she says it was the pro athlete who initiated contact.
"Ava and I were hanging out getting ready to go to the pool when Hank called. He said he was one of her fans, that he had seen her pictures and her videos online and he wanted to stop by and say hi and meet her in person. So he came over," she said. "He wanted to meet her because he thought she was beautiful."
Tillett admitted that at first she didn't recognize the Kendra On Top star because he introduced himself as "David," but she insists she didn't have to know his celebrity status to understand what was really going on behind closed doors.
Article continues below advertisement
"When Hank came over at the house I was getting ready, I heard him and Ava talking outside… They got to know each other, and then they decided to go to the bedroom," she said.
"When he walked in they were talking and then all of a sudden they were in the bedroom so obviously something sexual was going on," Tillett claimed.
Later, she said, London confided in her about the tryst.
"Ava told me that her and Hank went into the bedroom and that's when things got steamy. He obviously wanted to undress her and he wanted to see if she was really a transsexual," she said.
"Ava just told me she and Hank went in the bedroom, he undressed her, he undressed himself, he wanted to touch her penis, which obviously he did while they were touching each other 'cause you know they were messing around," continued Tillett. "They were fooling around…it was really quick… he didn't take that much to orgasm."
Tillett added that after their bedroom romp was over, she heard the shower, and that's when she first met the nearly naked pro athlete.
Article continues below advertisement
"I obviously knew they were done doing what they were doing because I heard the shower. I went out to grab a drink and two minutes later Hank came out of the bathroom with a towel around him," she said. "He introduced himself. He said he was Dave. I said I'm Zhora… we were just talking about how's your day is going."
It was when Wilkinson's husband of five years put on his clothes in the bedroom that London's BFF found out his true identity.
"While Hank was getting dressed Ava told me that was Hank Baskett," she said. "I really didn't realize it was him that particular moment when he was in the apartment, but after he left that's when I realized it was Hank Baskett."
WATCH her video confession: