Exclusive
Little Girl Lost? Selena Gomez's Grandparents Reveal How Justin Bieber, Rehab & A Life-Threatening Illness Have Changed The Girl They Once Knew — PLUS Why She's 'In Treatment'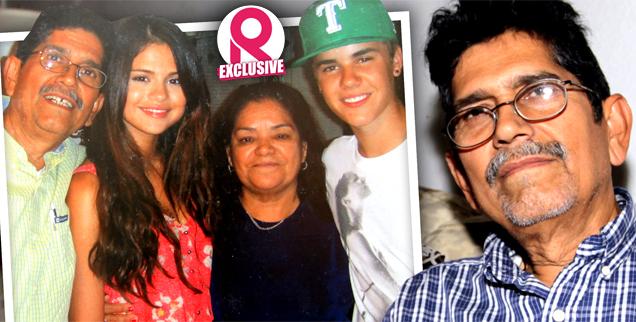 Almost from birth, Selena Gomez seemed destined for super-stardom. Named after Latin music icon Selena Quintanilla, the young girl quickly forged her own path to fame, making her own recordings for grandparents Ricardo and Mary Gomez and later getting cast on Barney & Friends at the age of 10. But even though her grandparents still listen to those old tapes, the girl who once made them has gone a long way from her humble roots -- and some might say, down the wrong path. Now, for the first time, her grandparents are speaking out to RadarOnline.com to reveal the truth about Selena's rumored drug use, secret rehab stay and life-threatening illness -- and why they say they're worried their little could become another victim of fame.
Article continues below advertisement
Selena was born on July 22, 1992 to high school sweethearts Ricardo Gomez and Mandy Teefey, who were just 16 and 15 at the time. "It was kind of a hard start for them," Ricardo Sr. tells RadarOnline.com. "...They had dated for I would say two years prior to that. They went wild and the pregnancy happened."
As they struggled to finish school, baby Selena was cared for by her grandparents, "when she was a baby, till about three or four years," he says.
"We kind of raised her," Ricardo reveals. "...Selena's father, he was always working. Her mom, Mandy, too was real hard-working when she was a young lady." And she had big dreams for her daughter.
"Her mother said that Selena was something special," he remembers. "She was one of the kids, not sitting in one place for a while, just always doing something, homemade movies, always acting and singing."
At just three years old, she began to live life in the spotlight after winning a modeling competition.
Article continues below advertisement
"It was a lot of children, over 400 kids and she came in first place," Ricardo says. "Then she was on Barney for about 45-50 episodes. Since that time, she did commercials and shows."
But was it what she really wanted? When the offer for her gig on Disney's Wizards of Waverly Place came in around the age of 13, "She cried so much all that night because she didn't want to go to L.A.," Riccardo reveals. "I said, 'Ok, it's up to you.'"
She did, of course, and her career only exploded from there, with her mother Mandy and stepfather Brian Teefey overseeing each step of the way. (At least, they did until she fired them recently. Ricardo insists the Teefeys are simply focusing on other projects.)
But by December 2013, the pressure had gotten too great. Selena, 21, suddenly cancelled a score of tour dates and was subsequently admitted to rehab in Arizona, as RadarOnline.com reported.
Article continues below advertisement
"We just saw in some newspaper that she was doing drugs," Ricardo reveals. "I called her and said, you need to watch out ..."
And although she denied it, her grandfather insists that all was not well.
"She was working a lot," she says. "She was exhausted. She hardly takes some time out. There was some pressure, first because it's a lot of work."
In addition, he blames her tumultuous relationship with Justin Bieber for the breakdown, claiming, "...she was worried a lot about Justin."
"The doctor was telling her she needs to take some time out," he says. "It's just too much pressure what she's going through. It's just too much! She doesn't have a single day's break. ... It's getting to the point with all this pressure ...that it's too much."
And soon, he says, she will need a longer hiatus from the industry.
"I would say so," he says of a temporary retirement. "Everyone was telling her, even her agent and the doctor, 'Selena take some time to yourself!'"
Article continues below advertisement
At the very least, he says, "She was saying she don't want to sing no more, she just wants to be an actress... but she's going to combine it, it looks like."
Making matters even more complicated is her secret battle with lupus, which Ricardo says she was diagnosed with "a couple of years ago."
"She's in treatment," he confirms. "She's getting along pretty good."
But he hopes that will continue. "What worries us more," he says, "is that she doesn't know how to say no. She won't take time for herself to relax, to eat well."
There's always a good meal waiting for her at their home in Grand Prairie, Texas, where she stops in about once a month. "When she's going to come by the area, she will just call us and say 'grandma, I'm going to be by Saturday so make me some tamales," he explains. "One evening she will eat with us and then go back."
Such nights have been sadly few and far between, since Selena's visits have dwindled in the face of her personal drama, and her grandparents last saw her in November.
"The sad part is we hardly see her nowadays, just by phone ...When we talk on the phone we say, 'We don't see you in person but we see you in the news, in the newspaper, the TV... Are you ok?'" Ricardo reveals. "She says, 'Yeah.'"
Do you think Selena is ok? Let us know in the comments!