Exclusive
Selena Gomez -- Secret Rehab Stint For Exhaustion; Disney Starlet Partied With Drugs & Booze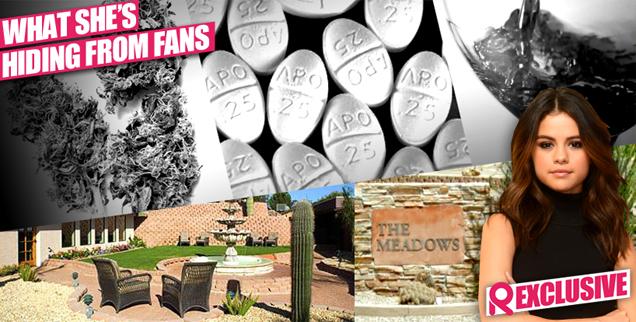 An "exhausted" and "broken hearted" Selena Gomez has been hiding a secret from her legions of adoring fans: RadarOnline.com has exclusively learned that emotional issues sent her to an Arizona rehab facility in January for a hush-hush emergency two-week stay.
The "Come & Get It" singer was admitted to Dawn at The Meadows recovery facility in Wickenburg, Ariz., on Jan. 5.
According to its website, Dawn at The Meadows rehab specializes in patients 18 to 26 years old who are struggling with emotional trauma, addiction or dual diagnosis concerns.
Article continues below advertisement
And while a rep for Gomez confirmed the treatment to RadarOnline.com — "Selena voluntarily spent time at Meadows but not for substance abuse," a spokesperson revealed — a source close to Gomez has revealed that in the months before her stint in rehab, she had been "partying very hard."
Indeed, RadarOnline.com has learned that Gomez, 21, had been leading a life very different from the carefully created squeaky-clean public persona: one troubled by drug and alcohol use.
"With fame came a partying lifestyle," confirmed one insider.
The former Disney princess — who first made her debut appearing as Gianna in Barney & Friends and starred in Wizards of Waverly Place — had been experimenting with marijuana and prescription drugs, including Xanax and Ambien.
Ambien, prescribed as a sleep aid, has become a drug of choice for many in Hollywood because it is similar to drinking a large amount of alcohol where one feels completely relaxed and loses control of their body.
Article continues below advertisement
"It's important to remember that Selena had worked in Hollywood non-stop for six years," another insider told RadarOnline.com. "She was exhausted. Selena was smart enough to understand that she needed to take control of her life.
"It just got to a point where she needed to get out of Los Angeles, get away from 'the scene' and the pressures of Hollywood, to also get away from those who had, admittedly, become a bad influence on her.
Article continues below advertisement
"Selena needed to take the opportunity to work on herself. She realized she needed help."
As RadarOnline.com first revealed, Gomez had also been struggling since her breakup with bad-boy ex and self-confessed pot user Justin Bieber.
"Selena came to understand just what a bad influence Justin had been on her life," said one source. "Their relationship left her broken-hearted."
"I don't know whether Justin pushed her to drug use, but amongst their close knit group of friends, smoking was common place," said another insider.
Article continues below advertisement
The shocking news of Gomez's rehabilitation, revealed today for the first time in a joint RadarOnline.com and STAR magazine investigation, explains why she chose to make the decision to cut off her Australian tour, citing personal reasons.
Gomez had been slated to kick off a 13-concert tour leg on Feb. 1 in Perth, Australia, but issued a statement on Dec. 20 announcing she was canceling it.
At the time, the singer said in a statement, "My fans are so important to me to me and I would never want to disappoint them.
"But it has become clear to me and those close to me that after many years of putting my work first, I need to spend some time on myself in order to be the best person I can be."
So far, it seems to be working: As one source told RadarOnline.com, "Selena is now happy and very healthy and already getting back to work."
For more details on how a "hurtful fling" with an A-List star contributed to Gomez's private battle, pick up the latest issue of STAR magazine for exclusive details — on newsstands now.