Inside The Barron Hilton Beatdown — Mansion Full Of Molly, But Lindsay Lohan Stayed Sober, Claims Partier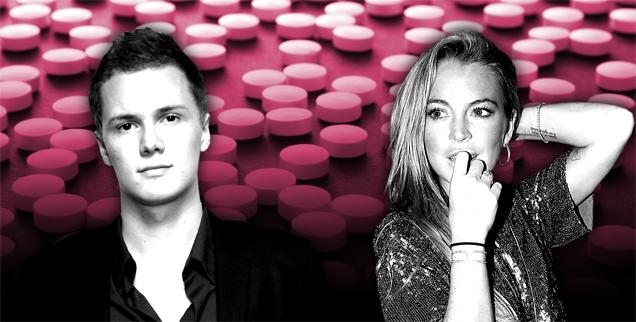 Liquor was flowing and drugs were abundant at the Miami mansion where Barron Hilton was allegedly attacked last week. But now, one partygoer has come forward to claim that houseguest Lindsay Lohan not only did not partake, but stayed barricaded in her room all night while the debauchery went down. New York Observer writer Lindsay MaHarry, a friend of Hilton's alleged attacker Ray LeMoine, was inside the bash, and offered up her version of the events in a new tell-all published in the paper earlier this week.
Article continues below advertisement
Upon arrival at the $25 million Star Island mansion, MaHarry says, Lohan made it clear that she would not be partying with the rest of the houseguests.
"Our interactions with Ms. Lohan were pleasant but brief," MaHarry writes. "Due to her probation, and the $2 million sobriety contract with Oprah, she was laying low, firmly on the wagon. Her brother grilled us some hot dogs and cheeseburgers. Then we parted ways. I didn't see her again until the next morning."
Little did Lohan know, drug-soaked drama was about to unfold.
After hitting up various parties in South Beach, MaHarry says, she and LeMoine returned to the mansion "at sunrise, and much to our surprise, there was a party of rich, horrible strangers in full swing." LeMoine promptly went to bed, MaHarry says, and Lohan "had barricaded herself in her room hours earlier."
But Maharry stayed on "to hang out," she says, "and I ended up partying with them all night."
Article continues below advertisement
"One of the post-adolescent billionaires brought an ounce of molly, a rock the size of a racquetball," she claims. "And pretty much everyone was on drugs," except Lohan and LeMoine.
"Around 11 a.m., it was time for people to go," MaHarry explains. "Mr. Hilton, incensed that someone would dare kick him out of a mansion he wasn't staying at … began screaming at Mr. LeMoine, who had just woken up to help clear the manse. Perhaps Mr. Hilton was confused, assuming anything with nine or more bedrooms must be a Hilton property. This litany of awfulness included but was not limited to: 'Do you know who my sisters are?' and 'I'm not going to be cool.'"
MaHarry admits, "I did not see the actual 'hit'" against Hilton.
"Suddenly," she writes, "a bloodied Barron burst through my door, screaming, with metal sunglasses embedded into his face. The property erupted into a cartoon riot. … Mr. LeMoine made his escape just after Ms. Lohan, in a different SUV."
But still, MaHarry claims, Hilton refused to stop the party, instead, "proceeding to down a gallon of Jameson by the pool" with friends and making angry phone calls.
Article continues below advertisement
"He claimed he wanted to leave, but his sister, Nicky Hilton wouldn't let him," MaHarry alleges. And when LeMoine's business partner, Mike Herman, asked to speak with Barron's sister, MaHarry says, "Ms. Hilton snapped, 'This is the scene of the crime! He's not going anywhere.'"
"Three hours after the punch, the cops came," MaHarry continues. "They took down some names, deemed Mr. Hilton inebriated and suggested he go home and get some rest. But that was advice he did not heed. Instead, Mr. Hilton once again stood his ground, staying to party for an additional three hours."
Finally, he departed, and MaHarry left as well, to meet up with LeMoine at the Standard Hotel. By the next day, the news had leaked to the press.
"Apparently the Hilton family tradition of shamelessly pursuing fame was not lost on young Barron," MaHarry claims. "Had our hero spent the past 24 hours sleeping and tending to his scratches? Oh no. He was in full snitch mode: leaking photos, talking shit and Instagramming battered selfies."
Article continues below advertisement
By nightfall, MaHarry says, she and LeMoine had split town, headed for the Florida Keys, and eventually Cuba. But he's yet to follow through with that plan.
"We've been boat-hopping for days now," MaHarry admits. "…finding a boat to Cuba has proven harder than we initially thought. They want $4,000 or more to go 90 miles. Though Cuba remains on the agenda, things seem to be winding down."
Citing reports that Hilton had stopped cooperating with cops, LeMoine said, "I knew this was a joke the whole time."