Exclusive
Battered Barron Hilton Returns To Los Angeles To Meet With Plastic Surgeons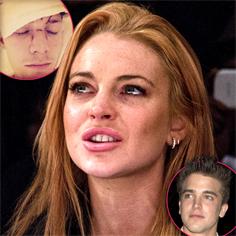 Barron Hilton has hightailed it back to Los Angeles to meet with top plastic surgeons to see if they can fix his battered face after he suffered a series of injuries in a Miami punch up, RadarOnline.com has exclusively learned.
Paris Hilton's 24-year-old brother was king hit in the face by a New York-based man, Ray LeMoine, at an all-night party thrown by Lindsay Lohan in a Miami Beach home.
He suffered deep cuts on his forehead and nose.
Article continues below advertisement
Barron has told cops the attack was ordered by Lohan, 27, who was supposedly upset after being told he'd trash talked her.
She has steadfastly denied any involvement.
Though Baron has privately vowed to press criminal charges against the Mean Girls star and the assailant LeMoine, a source said it was unlikely to trigger a probation violation against the actress in Los Angeles, stemming from her no contest plea to charges of reckless driving and obstruction of justice last July.
Said a source: "Yes, she's been identified in yet another criminal investigation, but Lindsay likely won't be in any danger of violating her probation, because it's unlikely that she will be criminally charged in the case.
As RadarOnline.com previously reported, Miami police tried to speak with Lohan twice at the hotel over the weekend, but were unable to have an in-person conversation with her.
"Lindsay wasn't obligated to talk to the police, it's her right to refuse to cooperate," the source added.
"Unless there was probable cause to arrest Lindsay, she is likely off the hook. Barron doesn't have any evidence that Lindsay ordered her friend/associate to beat him up."
Questioned the insider: "He didn't go to the hospital until six hours after the incident, why wait? This whole thing is likely just going to blow over."
According to initial reports, witnesses told police that the suspect wanted Hilton to leave and hit him in the face with an unknown object. The suspect then fled in a dark green SUV.