On The Run: Thug Cops Say Attacked Paris Hilton's Brother Headed To Cuba, As Lindsay Lohan Faces Lawsuit For Reportedly 'Ordering' Attack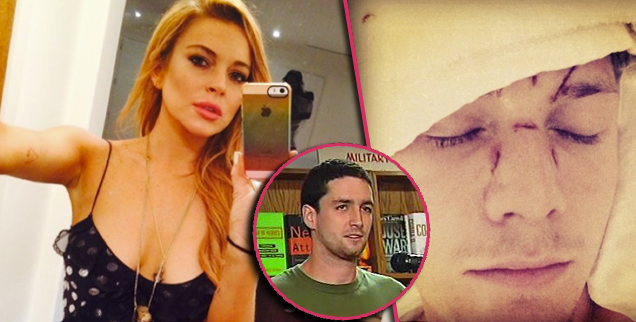 The New York native who clocked Barron Hilton early Friday -- purportedly at Lindsay Lohan's request -- might be on the lam to Cuba as officials seek to speak with him in connection with the incident, RadarOnline.com has learned.
The NY Daily News' Confidenti@l reports that Ray LeMoine was leaving the United States after the run-in with the hotel heir at a Miami home he'd rented.
"I'm scared of the Hiltons … so I am seeking refuge in Cuba," LeMoine told the paper. "Castro hates the Hiltons and took their Havana hotel in 1959 as a base after conquering Cuba, so they are stoked I'm coming down to hate capitalism.
Article continues below advertisement
"Viva la Lohan!"
Sources told the paper that the fracas unfolded after LeMoine returned to the rented home to find "a bunch of kids at the house … who weren't meant to be staying there.
"They had all been up all night drinking and Barron was one of them," the source said. When LeMoine told the group to leave the home, an angry Hilton, 24, shot back, "Don't you know who I am? Do you know who my sister is?"
At that point, the source said that "Barron just snapped at Ray, and started pushing him and shouting at him, and that's when Ray hit him.
"This was not an organized operation and had zero to do with Lohan," the source said. "It is more about someone who was drunk being a d***."
In the meantime, Paris Hilton's not giving the Mean Girls star the benefit of the doubt, as she's thrown down the gauntlet, saying on her Instagram account she'd pursue legal avenues for the offense to her flesh and blood.
Article continues below advertisement
"They both will pay for what they did," the "Stars Are Blind" singer said. "No one f***s with my family and gets away with it!!"
The NY Post reported that Lohan was back out the night following the fight, taking in David Arquette's bash at the Shore Club, keeping to herself most of the evening.
An insider said Lohan "was alone and typing on her phone the whole time, even though there was no service in the club.
"A photographer took a picture, and she went wild and asked him to delete it," the source told the paper, adding that Arquette "personally walked her out of the party and back to her room at 1:30 a.m."
As we previously reported, police said Hilton suffered injuries to his nose and forehead after his attacker hit him with an object and darted off in a dark green SUV.