Exclusive
Here Comes Trouble! Lindsay Lohan & Old Friend Gavin Doyle Party At Art Basel In Miami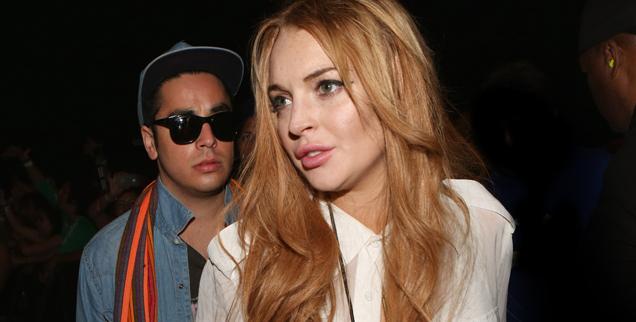 Despite being warned to stay away from her nightclub pal and former assistant, Gavin Doyle, troubled actress Lindsay Lohan has rekindled their friendship, and the duo have been partying together at Art Basel in Miami RadarOnline.com is exclusively reporting.
"Lindsay and Gavin have were out until the wee hours of the morning at Art Basel parties on Wednesday and Thursday night. Lindsay and Gavin chain smoke everywhere they go. Gavin was bragging to friends that they didn't go to sleep until after 4am on Wednesday," a source said about the diabolical duo.
Article continues below advertisement
Hitting up the party scene and hanging out with Gavin is worrying the people around Lindsay, since she had vowed to stay away from bad influences after being released from rehab.
"Miami is not the best place for Lindsay to be because of all of the temptations. It's not a good sign for her recovery that she is choosing to hang out with Gavin," the source told Radar.
Doyle, a fixture on the Los Angeles and New York City nightclub scene, has been in Lohan's life for the past five years, including working as her assistant. He was with Lindsay on the day she hit a dump truck from behind in Santa Monica, triggering a round of legal woes.
Michael Lohan is irate about the fact that she's hanging out again with Doyle, the guy who ratted her out to the cops in her car accident case.
"I have warned Gavin Doyle time and time again to stay away from Lindsay." Papa Lohan previously ranted exclusively to RadarOnline.com.
"He was always the one to weasel himself into her life at her most venerable state. While I have confidence in Lindsay, I don't in Gavin."
Lohan was spotted puffing away on a cigarette poolside in Miami.