Exclusive
Lindsay Lohan Warned By Her Dad: Stay Away From Bad Influence Party Pal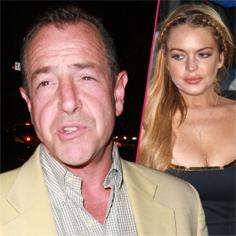 Lindsay Lohan has been staying away from all her previous bad influences since leaving rehab but her father Michael Lohan is irate about the fact that she's hanging out again with her former assistant, the guy who ratted her out to the cops in her car accident case.
"I have warned Gavin Doyle time and time again to stay away from Lindsay." Papa Lohan ranted exclusively to RadarOnline.com.
"He was always the one to weasel himself into her life at her most venerable state. While I have confidence in Lindsay, I don't in Gavin."
Article continues below advertisement
Since being sprung from her 90-day court-ordered rehab stint, Lindsay has been low key in the Big Apple, not drinking or doing drugs and trying to re-launch her acting career. Her progress was a point of bragging for her father, but he said multiple red flags went up when he saw her cavorting with Gavin again.
"People, places and things mean more than you know," he warned about having someone he thinks is a bad influence around his daughter.
As RadarOnline.com previously reported, Lindsay has refused to cut off ties with Gavin, and Michael fears for his oldest child.
"And if Lindsay doesn't know it, what I DO know, it's been a long road and a father has to protect his daughter."
Our friends at VH1's The Gossip Table discussed whether Lohan is dipping into danger. Watch below!
Get More: