Exclusive
Lindsay Lohan BFF Who Allegedly Attacked Barron Hilton Has Admitted To Prescription Pill Abuse, Hanging Out With OxyContin Dealers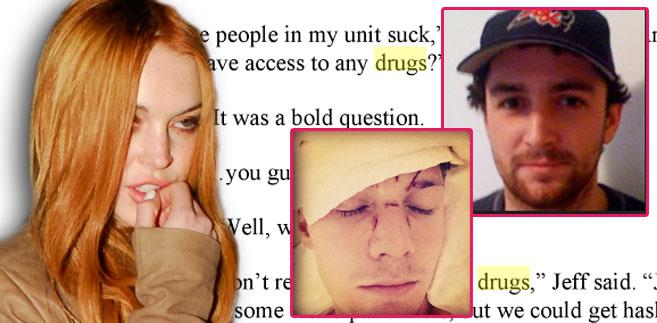 Lindsay Lohan has friends in low places. Ray LeMoine, the man who allegedly attacked Barron Hilton after a party at her Miami mansion last week, is an admitted drug user who has copped to abusing prescription pills and hanging out with Oxycontin dealers!
LeMoine, an entrepreneur and author, made the confession about his drug abuse in his book, Babylon by Bus, a memoir about the time he moved to Iraq for Hemingway-inspired adventure and became immersed in the black market drug trade.
Article continues below advertisement
Even before traveling to the Middle East, LeMoine admits he palled around with "drug dealers" while hosting illegal poker nights at his Boston apartment. In particular, he gloats about "the opportunity to take money from a pair of OxyContin dealers/sniffers -- the pills sold for eighty dollars a piece …"
Soon after, LeMoine and a friend decided to travel to Iraq for fun, where their drug use, he says, escalated to "excess."
Almost immediately after their arrival, LeMoine recalls dipping into "a stashed away mix of Valium and Xanax that we had left over from a collection gathered during our stay in no-prescription-necessary Jordan."
Because Valium was so accessible in the war-torn country, LeMoine writes, "Within days, my signature cocktail became a shot of arrack Southeast Asian liquor with a shot of valium …"
He explains, "Valium was the perfect drug for Iraq: Reality was so intense that some nights it was impossible to relax without it."
Article continues below advertisement
Before long, he admits, "Our Valium intake had risen to the point of excess," with 30 milligrams at one sitting or "enough to calm a person twice my size" the norm.
LeMoine was drinking a lot as well, he says, and his friend had started dabbling with powerful painkiller Tramadol. Their "normal evening cocktail ingredients," he claims, were "Xanax, Valium, and Klonopin." LeMoine also admits to smoking hash and drinking moonshine during his time overseas, and waking with "searing hangovers from booze and pills."