'Lohan Thug' Ray LeMoine Gives His Side Of Barron Run-In, Says 'The Hiltons Represent Everything That Sucks About America'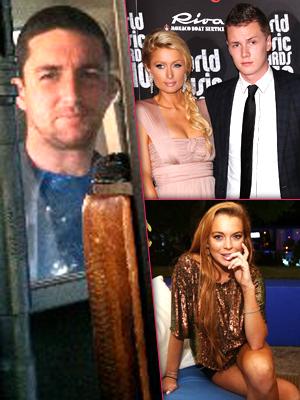 The New Yorker who roughed up Barron Hilton early Friday -- purportedly at Lindsay Lohan's request -- has given his side of the story in a detailed blog, at the end of which he concludes, "The Hiltons represent everything that sucks about America."
Ray LeMoine, a self-described freelance writer and bar owner, penned a blog for Vocativ, in which he explains the chain of events that led to his run-in with the 24-year-old hotel heir, ending up in a fracas allegedly leaving Barron -- who he dubbed "Conrad Hilton's spoiled sperm experiment" -- in stitches.
Article continues below advertisement
LeMoine said he's been a regular at Miami's Art Basel festival the past decade, but is put off by the vapid, pretentious, over-marketed nature of the event. This year, he said was only there on business, ironically working for Cy Waits, Paris Hilton's nightclub impresario ex she was famously arrested with on cocaine charges three years back. He said he and his colleagues rented the mansion, where he met Lohan (through his unnamed pal who she's dating), who he glowingly called "Andy Warhol's wet dream -- a child star gone rogue, who grows up to be an American badass."
LeMoine said after a night of working at the festival, "It was 5 a.m. by the time I got home to the rented mansion and discovered a huge party. I didn't know anyone there, the crowd was lame, and I went to bed. In the morning I woke up to discover that a bunch of people had been up all night doing Molly.
"My friend's name was on the lease of this mansion, and we didn't want anyone to trash it, so we started kicking people out," he wrote. "I walked out to the patio, and I saw this blond brosef in a top hat and John Lennon glasses. He seemed nice at first, but when I asked him to leave, he went bonkers."
Article continues below advertisement
LeMoine said Barron barked at him, "Don't f**k with me! Do you know who my sisters are? Paris and Nicky!"
LeMoine said Barron got in his face, "and wouldn't shut up about his stupid family.
"Eventually things got so heated that he pushed me. And that's when the alleged assault, which of course I deny, took place."
Barron got on the horn with his sisters, who notified the media of the alleged attack, LeMoine said.
"The next day a reporter friend called to say that Miami police had my name and were about to go public with it," LeMoine wrote, wryly observing that "it's funny that here in Florida, where George Zimmerman got away with shooting and killing an unarmed teen on public property, police are hunting me for allegedly punching some dude who stepped to me and wouldn't leave my rental."
LeMoine said he's currently "on the lam" in the Florida Keys, "waiting out this storm of stupidity.
"I've always wanted to go to Cuba by boat," he wrote. "The Hiltons represent everything that sucks about America, and I'll be happy to get away from them.
"The irony, of course, is that when Fidel Castro came to power in 1959, he took over the Havana Hilton. Say what you want about the man, but he knew how to spot an a**hole from 90 miles away. That's why he'd never be caught dead at Art Basel."