Exclusive
'I Can't Wait For The Moment We Are Freed': 'Foxy Knoxy' Amanda Knox Bares Her Soul To Italian Boyfriend Raffaele Sollecito In Never-Before-Seen Prison Letter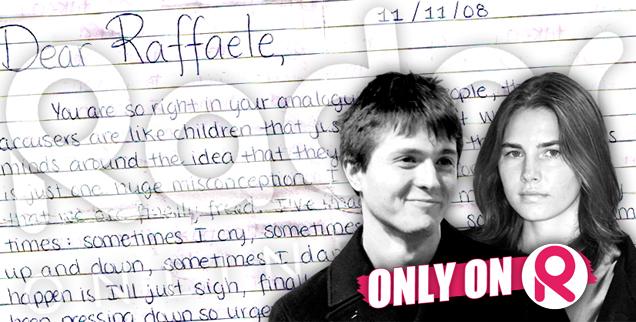 Article continues below advertisement
Rumors of Satanism and sexual deviance swirled in court while the two languished in jail cells for four years before they were freed.
EXCLUSIVE: Read The Letter Here
Now, in a world exclusive, RadarOnline.com can offer a look into that trying time and their tragic romance through a heartbreaking prison letter Knox managed to send to Sollecito in 2008, just one year into their imprisonment.
Right away, Knox expresses her frustration at being wrongly imprisoned.
"These people, these accusers are like children that can't/won't wrap their minds around the idea that they are wrong, that all of this is just one huge misconception," she writes. "…I honestly ask myself how come people can even look themselves in the mirror after pointing their fingers at us, calling us satanic murders sic, when really the truth is in plain sight: THEY HAVE NOTHING - only their own twisted imaginations."
Article continues below advertisement
As the trial dragged on, Knox relied on her own imagination to survive, conjuring up dreams of what it would be like if she and Sollecito were to be released at last.
GALLERY: Amanda's Jail House Letters
"I can't wait for the moment that we are freed," she wrote her one-time lover. "I've imagined the moment so many times," she admits. "Sometimes I cry, sometimes I faint, sometimes I jump up and down, sometimes I dance. What's probably going to happen is I'll just sigh, finally relieved of the burden that has been pressing down on us …"
An admitted atheist, Knox found no solace in religion, although she was admittedly close to the prison deacon, who taught her how to play guitar. "It is true that I'm not Christian and that the idea of some sort of recompense in the afterlife doesn't consol sic me, but it doesn't mean that I don't see in my own way a light throughout all this darkness," she writes. "The way I see it, life is a continuous equilibrium, no matter where we stand."
Article continues below advertisement
"If life is easy, then it is lived easily with small ups and downs to every situation," Knox explains. "But right now, we are living through an extraordinarily difficult experience that has both extraordinary downs (of which we are unfortunately all too familiar) and also extraordinary ups, which are the treasures of life that we have the opportunity to find."
Ever the optimist, she writes, "This time of our life has taken away so much that we have loved and perhaps taken for granted, but it has provided us with the opportunity to really do something good, which is to confront a horrendous challenge with bravery and patience."
"That isn't to say that I don't understand your point of view or appreciate your prayers," she tells Sollecito, a Catholic. "Quite the contrary …"
In fact, she shared with Sollecito an Italian quote from her friend the deacon, which translates to "The tears of the guilty purify the guilty, but the tears of the innocent purify the world and grow the soul."
"This, more than anything else, has spoken to me in a consoling sort of way," she says, "because in the end we are so lucky to have even this life we have."
Article continues below advertisement
Remembering her friend Kercher's bloody end, Knox admits, "I'm still haunted by the idea that I could have been killed as well, if I had decided to be home that night."
And though Sollecito had initially decided to distance himself from Knox as the seriousness of their situation became clear and cops pressured him to turn on his girlfriend, Knox expresses hope that the two can share some kind of a relationship in prison.
"You're very sweet, Raffaele," she writes, "and I've decided I don't care about waiting until this is over to contact you. After all, we both share this experience and will carry the scars for the rest of our lives. So, I don't want to wait until the craziness ends to try to share with you whatever strength I have to get through this. What do you think?!"
To that end, Knox includes the lyrics to "Let It Be," one of the couple's favorite songs to listen to in the early, innocent days of their romance.
Article continues below advertisement
She also includes a post-script in Italian, to show her new, hard-earned language skills. Though the couple could barely communicate when they first met, Knox was proud to show that she had learned the local language from other inmates. "Aren't I doing well with the Italian?" she jokes. "Already one year that I'm here, and I've hoped to speak fluently. Too bad I couldn't speak it when we first met!"