Exclusive
'They're Just Good Friends': Inside Amanda Knox's Reunion with Her Italian Ex, Raffaele Sollecito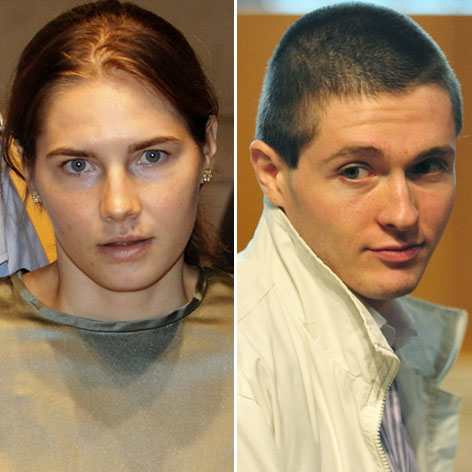 By now, Amanda Knox and Raffaele Sollecito have surpassed Romeo and Jliet for the title of Italy's most famously star-crossed lovers.
The two had dated for just nine days when Amanda's roommate Meredith Kercher was killed on November 1, 2007, and they became the prime suspects. Both were freed in October 2011, and Amanda returned alone to the U.S. and moved in with her boyfriend James Terrano. But Amanda and Raffaele finally shared a loving reunion in New York City on Tuesday -- and RadarOnline.com has all of the details.
Article continues below advertisement
As the two strolled the streets of the city, sharing a hug and a kiss, Amanda's boyfriend James was nowhere to be seen.
But now, Amanda's family friend and spokesperson, David Marriott, says the touching moment of their long-delayed embrace was not all it seemed.
"Raffaele and Amanda are two good friends who happened to be in the city at the same time," Marriott tells RadarOnline.com exclusively. "Amanda was on 'The View' on Monday, and I don't know about what Raffaele was doing there."
"But obviously they're good friends and they've been through a lot together," he continues. "If they find themselves in the same city, they would get together just like anyone would."
But Raffaele and Amanda are in frequent contact, even though she lives with another man. "They correspond," Marriot reveals. "I don't want to say frequently, but definitely occasionally. By email, and phone, they chat. They're friends."
MORE ON:
Celebrity Justice
Article continues below advertisement
Both Amanda and her Italian ex are certainly taking any support they can get now that the Italian courts have decided to retry their case. On Tuesday, the court issued written reasoning for doing so, claiming that the long-dismissed theory that Kercher died during a twisted sex game gone with Amanda and Raffaele still holds weight.
Amanda has said she will not return to Italy for the trial, and it's likely that the U.S. will block any attempted extradition. Raffaele has since moved to Switzerland.
As for her current state of mind, Marriott reveals, "…It's painful he court has decided to open the case back up again. But she'll move forward, as she has always done."