Stunning Ruling! Amanda Knox To Be Re-Tried For Murder Of British Exchange Student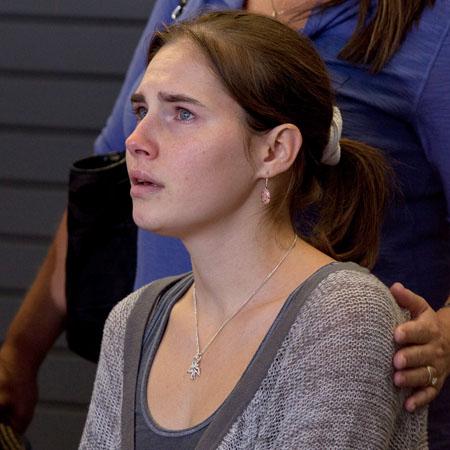 In a stunning move, Amanda Knox's acquittal for the murder of British foreign exchange student Meredith Kercher was overturned Tuesday by Italy's top appeal court in Rome, which ordered a retrial for both her and her former lover and co-defendant, Raffaele Sollecito, who turned 29 on the same day the ruling was announced.
Knox -- who now lives in Seattle, Washington -- called the Perugia prosecutors' theory of her involvement in Kercher's murder "completely unfounded and unfair," according to The Associated Press.
Article continues below advertisement
"No matter what happens, my family and I will face this continuing legal battle as we always have, confident in the truth and with our heads held high in the face of wrongful accusations and unreasonable adversity" she added.
Prosecutors in the November 2007 murder case had long been fighting to get the 25-year-old's acquittal overturned and return her to Perugia, Italy for a new trial, along with Sollecito.
Despite the ruling, the Italian judicial system moves very slowly, and Knox may not stand trial until early next year. Also, Knox does not have to be at the trial – at least not for the start of it. Italian prosecutors are not expected, at least not at this time, to ask for Knox to be extradited back to Italy. At some point, they will, but that doesn't mean Knox will in fact return to Italy. Although the U.S. and Italy do have a long-standing extradition treaty, the U.S. evaluates the requests on a case-by-case basis, and it would seem unlikely that the U.S. government would agree to extradite Knox from her home in Seattle and back to the country where she had already spent four years in prison before the verdict was overturned in October 2011.
Article continues below advertisement
As RadarOnline.com previously reported, Meredith's sister, Stephanie Kercher, expressed her hope that a new trial would bring answers to lingering questions and the ultimate truth. "A beautiful young girl, my little sister (was) taken away from us too early in a brutal manner, with many aspects to still clarify," she said on Saturday.
Knox, Sollecito, and an unrelated drifter, were separately found guilty of Meredith's brutal murder, with Amanda getting 26 years and Sollecito, 25 years in jail.
Extraordinary bungling on the part of the local police and the lack of physical evidence resulted in the convictions against Knox and Sollecito being overturned in 2011, and both were immediately set free.
Knox is set to break her silence in the case with an on-camera interview with ABC News to be broadcast next month in conjunction with the release of her memoir, Waiting to be Heard, which hits stores on April 30.