Meredith Kercher Sister's Pain At Learning Of Her Murder, 'Couldn't Stop Thinking About What She Must Have Been Through'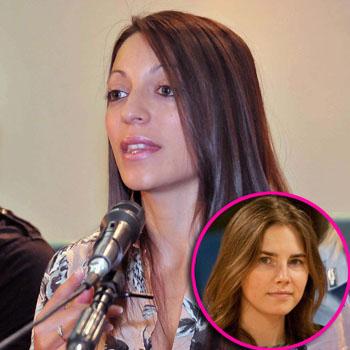 Article continues below advertisement
The 29-year-old rehashes the painful way she learned that her 21-year-old sister, who was known to friends and family as Mez, was murdered.
"One evening in November 2007, my mother rang, sounding worried, to tell me a British student had been killed in Perugia, where Meredith was studying. After a moment of panic, I scanned a news website – and was relieved to see the victim was 22 years old. 'Meredith's 21; it can't be her,' I reassured Mum," Stephanie reveals, adding that she was just exchanging text messages with her sister about a Halloween party she had been invited to.
"But just to be sure, I copied the link and emailed it to Mez before trying to call her.
"When she didn't answer, I sent her a text: 'Be careful, and give me or Mum a call, because everyone's worried. Love You.' Then, I carried on with my evening, not realizing that Meredith would never read my message – or that our lives would never be the same again."
She found out from her father just three hours later that the girl who'd been found dead was in fact, her sister.
Article continues below advertisement
"Feeling sick and shaking all over, I knew I couldn't drive. So while I cried in the passenger seat, a friend gave me a lift home to Surrey, where Mum, Dad, John, and Lyle had gathered. Still not quite believing it, all I could do when I arrived was collapse in tears in my parents' arms."
When she saw her sister on the news that evening, it was almost impossible for her fathom that it was a reality.
"When Mez's picture appeared on the TV screen, I thought at first it wasn't her. But maybe I just didn't want to believe it. She was in her Halloween outfit, with straight dark hair and red lipstick – taken at the party she'd been so excited about. My sister had been found in her bedroom, sexually assaulted and with 47 different wounds, including stab wounds to her throat. I couldn't stop thinking about what she must have been through."
Article continues below advertisement