Meredith Kercher's Sister Opens Up About Amanda Knox's Overturned Conviction, 'We Were Crushed'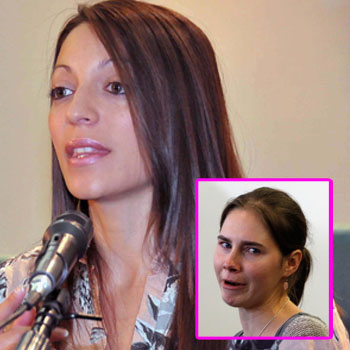 Article continues below advertisement
The 29-year-old, who reveals that her sister didn't talk about Knox much during their extensive phone conversations, traveled to Italy with her parents for Guede's trial, but chose not to be in the courtroom when he detailed what had happened to Meredith on the night of her murder.
After he was found guilty of sexual assault and murder, receiving a 30-year sentence that was later reduced to 16 years, the family got a little bit of closure.
"In a way, it was a relief that at least one piece of the puzzle had been slotted into place," Kercher says. "But the prosecution felt that marks on her body showed that Meredith had been killed by more than one person, so Amanda and Raffaele were also due to stand trial. Each stage of the case meant a few exhausting days for us in court, and there was a long way to go."
Even after Amanda and Raffaele were convicted in December 2009 on charges of sexual assault and murder, the family knew they still had a roller coaster ride of emotions ahead.
Article continues below advertisement
"Even then, we knew it wasn't over – but we were still crushed when, in October 2011, Knox and Sollecito's convictions were overturned," she says. "We didn't want innocent people to be jailed, but it felt like we were back at square one, facing a future desperately looking for answers that might never come."
Though the family still has hope that there will be a third appeal against the overturned convictions, they are learning to accept that they may never learn the truth about the night of Meredith's murder.
Amanda Knox's Ex Boyfriend Details Their Reunion, Says It 'Brought Up Image Of The Nightmare'