'A Foot! Blood!' Amanda Knox Describes The Moment Of Horror When Meredith Kercher's Body Was Found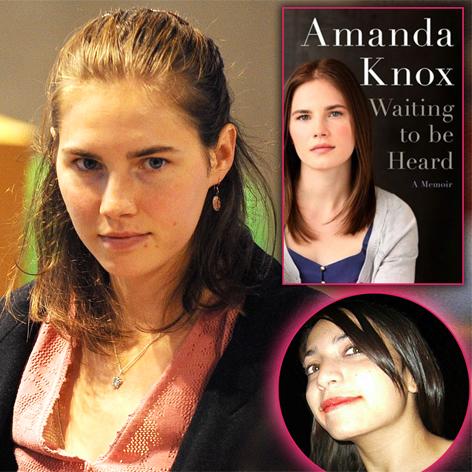 In November 2007, Amanda Knox was catapulted from a free-living foreign exchange student smoking pot and watching movies with her new boyfriend to the prime suspect in a brutal murder case, and the focus of an international trial that captured the attention of the world.
Now five-and-half years after life as she knew it evaporated in an instant, she is finally telling her version of events and revealing the moment of horror when the butchered body of roommate Meredith Kercher was discovered in their Italian villa.
Article continues below advertisement
Setting the scene of another fun weekend for students at the University For Foreigners in Perugia, Knox, now 25, reveals in her new memoir, Waiting To Be Heard, how everything at that time "happened by chance."
She met British student Meredith "by chance," and then met Raffaele Sollecito at a string and piano quintet "by chance," and he would ask her to be his girlfriend within three days.
"Halloween offers an irresistible excuse for students to dress up in costumes and to party," wrote Amanda, and the girls celebrated the night with different friends – a fact that prosecutors later claimed showed their friendship was fraying.
The next day - eerily All Saint's Day, a national holiday in Italy to honor the dead - Amanda and Raffaele enjoyed a chilled-out couple's night smoking a joint, playing The Beatles on the guitar and watching Amelie. As Knox translated Harry Potter into Italian or English, "we smoked and giggled" and made plans to take a long drive into the countryside the following morning.
Tragically, their road trip – and any other bright ideas they had for the next four years - were drastically put on hold.
Article continues below advertisement
When Amanda returned to the villa she shared with Kercher and two Italian women on November 2, she noticed "two pea-size flecks of blood on the bathroom sink" and another smear on the faucet. 'Weird,' she thought. There was more blood the size of an orange on the bathmat.
"I felt a surge of panic and a prickly feeling you get when you think someone might be watching you," she revealed in the memoir that was released on April 30. She ran out to go to Raffaele's for safety and called her mom in Seattle. "I found some strange things in my house," she cried, but was calmed down by the comforting voice from so far away.
Amanda took about trying to track down her roommates; she spoke to Filomena, but when she called Meredith, it eerily went straight to voicemail. When she returned to the villa with Raffaele, "My stomach was knotted with dread," she wrote, and the grim premonition escalated when she saw the smashed up devastation of Filomena's room and broken window.
Meredith's door was locked so she banged on it, so she went around and climbed up the terrace until Raffaele warned her she could fall. Another call to Seattle prompted advice from her parents, "to get the hell out of the house and call the police!"
Article continues below advertisement
Knox's heartbreaking rendition rapidly escalates as she explained how after two officers arrived, who revealed they had located a pair of cell phones and one of them was Meredith's British phone.
Still unable to open the bedroom, Filomena's friend Luca kicked in the door with a "thundering blow," which was followed by screams of: "Un piede! Un piede!" - "A foot! A foot!" Then "Sangue! Dio bio!" - "Blood! My God!"
With their worst fears rapidly brought to reality, Amanda sat outside on the front step of the villa as the Italians found a body inside the wardrobe. "Meredith! Meredith! Oh God!" Filomena screamed over and over.
"My mind worked in slow motion, I couldn't scream or speak. I just kept saying in my head, 'What's happening? What's happening?'"
Over the next few days, Knox pieced together what Filomena and the others had seen: a naked, blue-tinged foot poking out from behind Meredith's comforter, blood splattered over the walls and streaked across the floor.
Article continues below advertisement
At the time, however she was still unaware of the sickening details, "At the moment, the image I had was of a faceless body stuffed in the armoire, a foot sticking out," she explained.
"Maybe that's why Filomena cried out, and I didn't. In that instant, she'd seen enough to grasp the terrible scope of what had happened. All I got was confusion and words and, later, question after question about Meredith and her life in Perugia. There was nothing I could say about what her body was like in its devastation.
"But even with those blanks, I was still shaken – in shock, I'd guess," said Amanda in her highly-anticipated book. "My legs wobbled… suddenly I was freezing."
Paramedics, investigators and white-suited forensic scientists arrived in waves. At one point, Luca told Raffaele what the police had said: "'The victim's throat was slashed.'"
Unable to understand the police and having not entered the crime scene herself, the future murder defendant only learned later the chilling fate of her roommate.
Article continues below advertisement
"I didn't find out until the months leading up to my trial – and during my trial – how sadistic her killer had been. When the police lifted up the corner of Meredith's beige duvet they found her lying on the floor, stripped naked from the waist down," wrote Meredith.
"Her arms and back were bruised. She had struggled to remain alive. Her bra had been sliced off and left next to her body. Her cotton T-shirt, yanked up to expose her breasts, was saturated with blood.
"The worst report was that Meredith, stabbed multiple times in the neck, had choked to death on her own blood and was found lying in a pool of it, her head turned towards the window, eyes open."
At the time, "I mercifully didn't know any of this. I was slowly absorbing and rejecting the fractured news that Meredith was dead. I felt as if I was underwater. Each move seemed thick and surreal."
Foxy Knoxy and Sollecito were later slammed by both prosecutors and global media for kissing and cuddling in the street while the police investigated, which he has admitted in his own book, Honor Bound: My Journey to Hell and Back with Amanda Knox, was odd, but they were just trying to comfort each other.
Article continues below advertisement
"Nothing felt real except for Raffaele's arms, holding me, keeping me from collapsing," explained Amanda. "Catching words and translating them in my head felt like clawing through insulation. I was flattened, I was in despair.
"I never sobbed openly. I bottled up my feelings. It was an unfortunate trait in a country where emotion is not just commonplace but expected."
"Even though they had barely been a romantic couple for a week, "Raffaele let me know I wasn't alone. Later, people would say our kisses were flirtatious – evidence of our guilt. Innocent people, the prosecutor and media said, would have been so devastated they'd have been unable to stop weeping.
"During the drive (to the police station) I was again overcome by the realization that the body had to be Meredith's, that she was dead. I doubled over in the backseat and sobbed," said the heartbroken friend, finally letting her feelings spill out.
Knox and Sollecito were found guilty of of sexual assault, murder and simulating a burglary and spent four years in an Italian prison before the conviction was eventually overturned in November 2011, and she returned to the U.S. On March 26, 2013, Italy's highest criminal court overturned the acquittal and ordered a new trial, but she's determined to keep fighting.
Knox's memoir, Waiting to Be Heard, hit stores on Tuesday. Meanwhile, Diane Sawyer's exclusive interview with Knox is set to air Tuesday night at 10/9c on ABC.