Disturbing Insight Into Harrowing Nightmare Amanda Knox Endured Revealed In Her New Book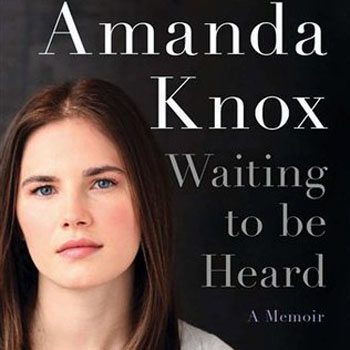 Article continues below advertisement
As RadarOnline.com previously reported, Knox, now 25, and ex-boyfriend Raffaele Sollecito were released last year when their sentences were overturned due to lack of evidence, after which she immediately returned to her family in Seattle, Washington where she has since kept a low profile.
The woman dubbed Foxy Knoxy is now ready to tell her story in Waiting To Be Heard, which is scheduled to hit book shelves on April 30, two months later than originally planned out of deference to a court in Italy that scheduled a March 25 hearing for the prosecution's appeal of the former exchange student's acquittal.
Amanda, who can be seen demure and unsmiling on the cover, was reportedly paid $4 million for telling her Kafkaesque tale of the Italian justice system.
As previously reported, Sollecito released his own book, Honor Bound: My Journey to Hell and Back with Amanda Knox, earlier this year.
The victim's family has also been heard from this week, with Meredith's sister, Stephanie Kercher, opening up to Cosmopolitan magazine about the horrific day that she learned her 21-year-old sister had been murdered in one of the most internationally covered crimes of the decade.
Article continues below advertisement
"One evening in November 2007, my mother rang, sounding worried, to tell me a British student had been killed in Perugia, where Meredith was studying. After a moment of panic, I scanned a news website – and was relieved to see the victim was 22 years old. 'Meredith's 21; it can't be her,' I reassured Mum," Stephanie revealed, adding that she was just exchanging text messages with her sister about a Halloween party she had been invited to.