Real Life 'Tarzan Woman' Who Lived With Monkeys' Family Speaks Out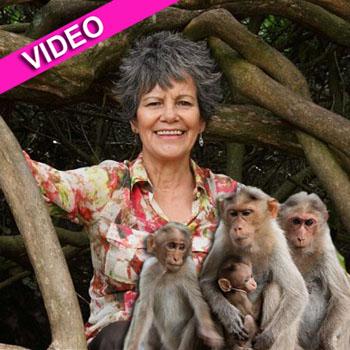 Family members of the woman who lived like a real-life Tarzan are speaking out about her incredible claims that she lived with monkeys in a Columbian jungle for five years before being rescued and eventually adopted by their family.
Marina Chapman, who thinks she was born in 1950, claims to have been kidnapped when she was five, but was left abandoned in the jungle.
She says she lived with a colony of capuchin monkeys for five years and was rescued by hunters and brought to the city of Cucuta where she was sold to a brother, beaten and groomed for prostitution but luckily escaped and lived on the streets.
Article continues below advertisement
Her adoptive sister and cousin spoke out about their relationship with Marina, and they both recalled what she was like when she first came to live with them.
"When I first met she seemed like such a sad girl, a very sad girl. I didn't know why. She had sad eyes. She was very active," her adoptive sister Nancy Forero Eusse told the UK Sunday Telegraph.
Carlos Velasquez, Marina's adoptive cousin, said she told the family about her ordeal and living with the monkeys.
"Maybe about five years ago we found out that she had memories of her being kidnapped and living in the jungle and then coming back to the city," he said.
"We don't know exact dates but that's what she recalls. We knew that she was adopted, my grandma told us about it. We knew that she was in the streets and she was picked by my grandma and taken care of."
He said that she told them how she survived while living with the animals.
Article continues below advertisement
"Apparently she saw monkeys eating food in the middle of the jungle, and in order to survive she would eat what they ate to survive."
Marina's daughter Vanessa James is helping her write a book titled The Girl With No Name: The Incredible True Story of a Child Raised by Monkeys, and she said that it is "assumed that the kidnap went wrong. All she can remember is being chloroformed with a hand over her mouth. And all she can recall of her life before that is having a black doll as a toddler."
In 1977, Marina married John Chapman and the couple had two daughters. James talks about her mother's unusual child rearing skills
Watch the video on RadarOnline.com
She says: "When we wanted food, we'd have to make noises for it…
"I got bedtime stories about the jungle, as did my sister. We didn't think it was odd – it was just Mum telling her life."
RELATED STORIES:
Welcome Home! Pound Dog's Delight As His Master Returns From War