Jodi Arias Jurors Shown Gruesome Photos Of Butchered Murder Victim Travis Alexander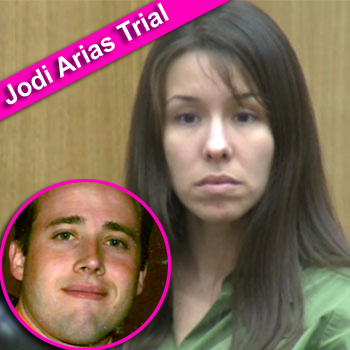 By Debbie Emery - RadarOnline.com Reporter
The death penalty trial of brunette beauty Jodi Arias quickly took a grisly turn on Thursday when the jury was shown a photograph of her alleged victim lying slashed and lifeless in a pool of blood in his shower.
As RadarOnline.com previously reported, Jodi, now 32, is accused of shooting 30-year-old motivational speaker Travis Alexander in the face and then stabbing him 27 times and slitting his throat from ear to ear in his Mesa, Arizona home in June 2008.
Article continues below advertisement
The violent murder scene was revealed by prosecutors in the Maricopa County courtroom on Thursday, along with a slew of evidence, including a man's bloodied T-shirt and photos of pieces of rope next to congealed blood spots found in the bathroom where Alexander was killed.
Electronic evidence, such as numerous raunchy e-mails between the former couple, and a recorded phone call between Arias and Police Det. Esteban Flores where Arias said the couple was so distrustful of each other that they shared their online passwords for their Facebook, Gmail and MySpace accounts, were also presented.
With the prosecution seeking to make Jodi the fourth woman on Arizona's death row, the case is already being dubbed the most high profile trial since Casey Anthony's acquittal.
Rather than a cold-blooded killer, defense attorneys are claiming that Jodi killed her former lover in self defense after she was abused and controlled by the devout Mormon, whom she described as a sexual deviant.
Under cross examination, Detective Flores revealed that in one e-mail, Alexander used offensive sexual names for his alleged killer, and wrote: "I think I was little more than a dildo with a heartbeat to you."
Article continues below advertisement
Through much of Wednesday's opening testimony, the glamorous murder suspect – who once won an American Idol style singing competition from behind bars – sat openly sobbing in the courtroom, as prosecutor Juan Martinez told the court: "This is not a case of whodunit… The whodunit sits in court today."
Stay with RadarOnline.com for updates and the daily live-streaming of the Jodi Arias trial, which resumes on Tuesday, January 8.