Jodi Arias' Alleged Victim Blogged About 'Dating An Axe Murderer' Before His Death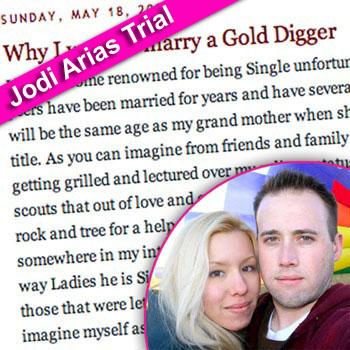 By Debbie Emery - RadarOnline.com Reporter
In what is now considered a creepy prophecy of his grisly fate, Travis Alexander wrote a blog about his fear of dating "an axe murderer" less than a month before he was violently killed, allegedly by sexy murder suspect Jodi Arias.
The 30-year-old motivational speaker and legal insurance salesman wrote a lengthy commentary on May 18, 2008, titled "Why I Want To Marry A Gold Digger," in which he shared his thoughts about the perils of being single and his desire to change his priorities to "date with marriage in mind."
Article continues below advertisement
"Desperately trying to find out if my date has an axe murderer penned up inside of her and knowing she is wondering the same thing about me. That's usually when I think myself into a panic and start acting weird in consequence to trying so hard to act normal," wrote Alexander, about his hunt of for Mrs. Right.
As RadarOnline.com previously reported, tragically Travis didn't get the chance to ever pop the question or walk down the aisle because on June 9, 2008, friends who were concerned because they had not heard from him for several days went to his Mesa, Arizona, home and found him dead inside his standup shower. He'd been shot, stabbed 27 times and his throat slit. Advanced decomposition suggested that he had been dead for several days, according to the subsequent police reports.
Travis' pals immediately suspected his former lover Jodi Arias, and even gave the 911 operator her name and said she had been "bothering" him and had slashed his tires.
The now 32-year-old was indicted on first-degree murder charges a month later and has been behind bars ever since while prosecutors built their case in the hope of making her the fourth woman on Arizona's death row.
In his enlightening blog, Alexander detailed what he was looking for in a woman, such as: "Spirituality, mutual physical attraction, the ability to communicate effectively, wants children, etc. but there is one thing that I have come to appreciate as much or more than all the others. I don't know how to label this quality except to say that it is the quality to appreciate the qualities in me," he wrote.
Article continues below advertisement
"I want someone to fall in love with me because I am a man of ability and achievement," the self professed "storming Mormon," revealed.
While Arias' family claim the photographer was wildly in love with Travis, it was far from the romance made in heaven that he dreamed of and his friends claim she was obsessed with him and threatened to kill herself when he tried to sever all ties.
"This life is a beautiful life. A life that is all the more beautiful when we find someone of like mind, heart and spirit to share it with," Travis closed his final blog with. Sadly, his life was quickly cut short and he never got to find that special someone.